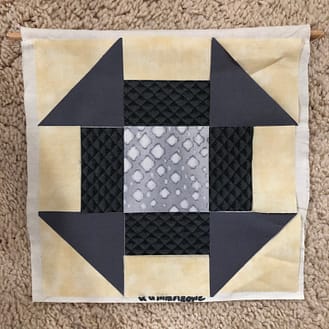 Yesterday, I finished cleaning out a closet that had all of the projects and papers from when my kids were in elementary and middle school. Given one of them has graduated from college, it was a good time to purge. I couldn't part with all of it and kept items from each grade. So their memorabilia went from seven boxes each to one box each. I am sorry Mr. Trash Collector!
Amongst the items, I found quilt squares they each had made in the first grade. Every first grade visited the Wheatland Museum to learn about local history. During that visit, the docents help the kids glue together quilt squares. Both boys completed the same square – Grecian Design. What a great way to introduce kids to a wonderful craft that isn't limited to women.
Out of curiosity, I looked up the variety of names for this block in the Quilter's Album of Patchwork Patterns, by Jinny Beyer. The first publication of the Grecian Designs was by Ladies Art Company in 1897. It has almost 20 different names:
Broken Plate, Brackman
Churn Dash, Ruby McKim, 1935
Churn Dasher, Hall, 1935
Double Monkey Wrench, Finley, 1935
Double Trouble, Nancy Page
Grecian Design, Nancy Cabot, Chicago Tribune, Jun 9, 1934
Grecian Square, Prairie Farmer, Mar 24, 1928
Greek Cross, Kansas City Star, Ruby McKim, Nov 14, 1928
Greek Square, Nancy Cabot, Chicago Tribune, Oct 8, 1936 (She liked is so much she published it in two different times)
Hens and Chickens, Wallace's Farmer, 1928
Hole in the Barn Door, Hall, 1935
Hubbard's Cupboard, Nancy Page
Indian Hammer, Old Fashioned Quilts, 1931
Joan's Doll Quilt, Nancy Page
Lincoln's Platform, Hall, 1935
Love Knot, Hall, 1935
Monkey Wrench, Ickis, 1949
Puss in the Corner, Hall, 1935
Quail's Nest, Mrs. Danner's Fifth Quilt Book, 1970
Sherman's March, Hall, 1935 (Hall published it under 6 names in The Romance of the Patchwork Quilt in America!)
This block is one of the first nine patch blocks quilters learn as it uses combines piecing with the grain (bars) and on the bias (half square triangle).
What was your first experience with quilting?
Happy Quilting 🙂
Laureen