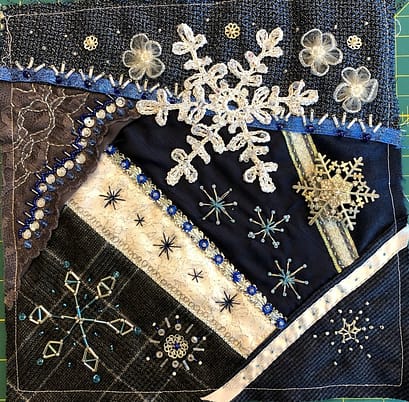 I have always wanted make a crazy quilt. In fact, I have been collecting fabric remnants, ribbon, beads, lace, and other bits and bobs for years. Many of these came from the clearance rack or estate sales. What I had been missing was inspiration. That inspiration came from Sharon Boggon's PinTangle. She issued a challenge to complete a crazy quilt with 2020 elements by the end of 2020. She started this a few years ago, so I doubt I will complete her challenge, but it did give me that kick to get moving.
Her idea of 2020 and the significance of the year started my brain rolling. My thoughts wandered until they landed on a calendar motif. There are dozens of month based patterns out there. I wasn't thinking block of the month, but ones that are calendar thematic – a block symbolizing each month. That would give me something organic to build upon and set a goal of once a month working on the quilt.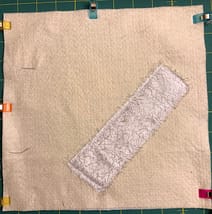 Next, I needed to pick a size and method. Yes, there are several methods for assembling a crazy quilt – fusing, stitch and flip, applique, standard piecing, etc. Stitch and flip would work best given the fabric remnants I collected were a wide variety of materials, so ironing wasn't really an option for me. Of course, crazy quilts generally incorporate lots of beading and embroidery. From past attempts, I knew that those embellishments worked best with some form of interfacing to stabilize the stitches and keep the fabric from warping. Why not use a thin cotton batting as the interface? It would provide the necessary body. With these decisions made, I cut 10-inch squares of white muslin for the and 10-inch squares of batting to make a quilt sandwich. The batting was placed over the muslin and the pieces were sewn on top of the batting. When the quilt is fully assembled, a second backing will be used to hide all of my stitching. This would be much easier than trying to bury every stitch in the batting. That is a future challenge.
January for me means snow and ice, probably because I grew up in the foothills of the Adirondack Mountains. So blues, greys, silvers and white were all good choices for the fabric. In fact, this was the perfect opportunity to use some special wool suit swatches a tailor had given me. Sparkly or satin ribbons and lace would also go well. Of course, shiny threads, beads and other embellishments were a must. I even crocheted a snowflake using metallic thread. With those few ideas, the design grew as I added each element to the square, another sprung to mind. One crazy quilter once said it is hard to know when to stop!
According to PinTangle, each different stitch, embellishment, and fabric count as a different element. Using this convention, my January block has
– 10 fabrics – three sets are layered for effect
– 5 ribbons/laces

– 5 threads
– 7 unique stitches
– 25 notions including beads, sequins, crocheted snowflake, lace flowers, and a snowflake button.
Overall, the square contains 52 element. If I want to reach 2020, I only have 1968 more to go…. That might be a stretch, but I am confident I can get over 600 by the end of the year!
Any one interested in joining for on this truly crazy adventure? This is a freeform block of the month. Use your own inspiration and materials to create a twelve-block wonder. I would love to see pictures of your blocks. I will post my February block when I get it done.
Happy Quilting
Laureen