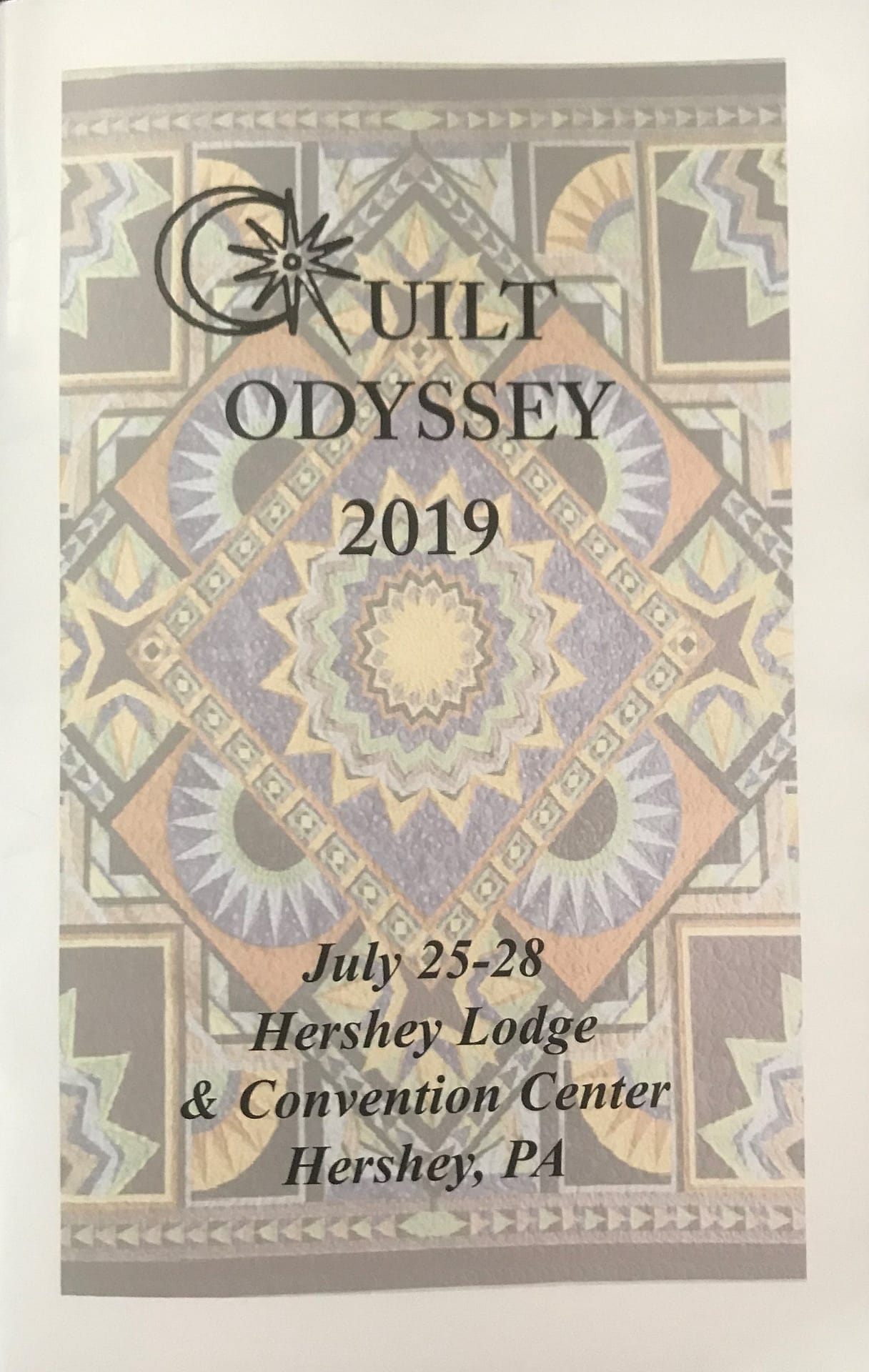 With all of the projects I have on my plate, why would I attend a quilt show? I could spend that time and money toward finishing some of those projects… Quilt shows can provide inspiration, education and deals if you know where to find them.
Well, this weekend, I attended a wonderful quilt show is Hershey, PA – Quilt Odyssey, which was celebrating their 20th anniversary. I knew I only had a day, so I had to be strategic.
Most quilt shows have a few elements in common: exhibits and lots of quilters! Larger quilt shows often add vendors, guest speakers and classes. Others will add special exhibits and charity events. Quilt Odyssey had it all! So how do you chose what to do?
First, decide how much time you have and prioritize. With only one day and very little planning, the classes and workshops were not an option for me. If I wanted to attend some, I would have had to tack on an extra day as most of the classes were about 3 hours. Plus, I would have had to sign up weeks, somethines months in advance for the very popular instructors. This show had several dozen interesting options for classes, which would have been great, if I had time and planned in advance. As for the lectures, they were about an hour during the lunch or tea times. Definitely doable from a time perspective.
My two priorities were inspiration from the show quilts and visiting the marketplace. Of these, the quilts were not going anywhere, but the vendors can sell out of goods early in the show. As the saying goes, the early bird gets the worm! So I opted for the marketplace first.
The marketplace can put a huge dent in your wallet, if you let it. I strongly suggest you have a list of items you need or want and try hard to stick to that. In addtion, do some research before you go. Many of the vendors have show specials; while others are selling at regular prices. If they are selling at regular prices, I recommend buying only if you need it right now or you are saving considerably on shipping. Keep in mind, many vendors waive shipping if you buy over a certain amount. The last piece of advice, is to tour the marketplace once before buying unless you see an item you MUST have. This is especial important for large purchases, like machines. Try them all before you decide. Shows are a great place to do your research.
For me, I found a great deal on rotary cutters and mats from Olfa – I had worn mine out after 15 years. I also took advantage of a show special from Sue Pelland Designs, who has great techniques and tools for curved piecing. At Superior Threads, I found a thread holder for my longarm so that I could use any sized spools. I managed to only need one trip to the car, but show offered "sack sitting." The proceeds for the sack sitting were given to local charities.
Another marketplace suggestion is to use the list of vendors in your program to record comments about the vendors. If they have a website, find out if the show items are on it. If they have items you may want to buy later, make notes. You can email the vendors to find out what shows they may be attending next.
Quilt Odyssey had a great charity quilt event – Hugs and Kisses Quilts for kids. Machines were set up, fabrics were already cut, and instructions were provided to make quilts for kids at the Hershey Medical Center. The stations were full every time I walked by them. Otherwise, I would have donated some time to add to their stack of blocks. Many shows have such charity events. If you have it in your heart, check in advance so you can schedule some time or bring requested items. Such items may be canned goods for food drives, scraps for future quilts, etc.
Finally, give yourself enough time to enjoy the work of others. The award winning quilts from this show came from around the world. The people who created them are very talented and imaginative. If you don't feel you have equal the talent, don't get discouraged. The only way these people reached this level was to keep trying. They should inspire you to new ideas. Given these people have worked so hard to get there, don't copy their designs or use images of their work without permission. I took pictures of many of the award wining quilts. They are my benchmark to improve my own quilts.
I hope that you take time to attend a show near you and support your local artisans and shops.
Keep quilting!
Laureen