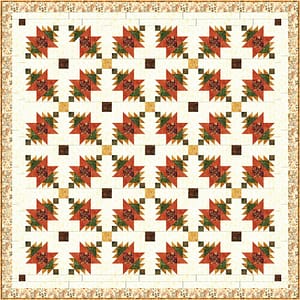 Growing up in Upstate New York, I was raised with the Iroquois' Three Sisters. Do you know about the Three Sisters? What are the three sisters are three crops traditionally planted together because they support each other in so many ways. Who are the three sisters? They are corns, beans and squash. Corn supports the pole beans. Beans provide much needed nitrogen to the soil. Squash shades the ground to keep it moist, while it prickly stems thwart predators.
I had the three sisters in mind when designing Harvest Gatherings. This quilt looks delicious in Hoffman's Harvest Helping fabric collection. It has maize for corn, green for beans, and orange for squash. The repeating blocks, traditionally pieced, represent each crop. Depending upon how you look at the block, you can see the corn kernels, the bean pods or the squash. The quilt finishes at 90″ square, so is wonderful as a fall bed cover.
The pattern is now available from our shop for both wholesale and retail.
Happy Quilting!
Laureen