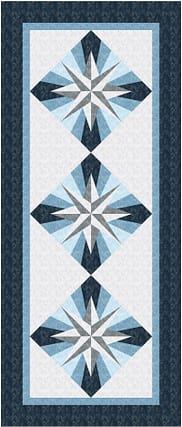 Happy New Year!!! May 2021 be a healthier, more productive and more positive (not in the COVID sense) year than 2020.
Even though 2020 may go down in history for all of the remarkable things that happened around the world, it was a very good year for me. First and foremost, my family was very fortunate as we were able to spend precious time together. Ok, for mom it was great, for the twenty-something sons it was more like detention. For my husband and I it was great to both be working from home. We saw more of each other in 2020 than we had in ten years and we still love each other!
For my business, 2020 was also a busy and productive year. That seems ironic to say as I officially retired as a corporate director in 2019, so should be taking it easy. As a relatively new designer, I knew that it would take a while to get my foot in the proverbial door. It would take time to develop patterns, build a brand and get noticed by my quilting peers. In 2020, we built a good foundation for Tourmaline & Thyme Quilts. I would like to share some of those accomplishments, which may not see huge but were to me. Maybe they will provide a road map for those who want to do something similar.
The Tourmaline & Thyme Quilts Etsy store increased the sales by a factor of 10 in its second year.
Tourmaline & Thyme Quilts was accepted by a publisher/distributor – QuiltWoman.com. That opened up so many new opportunities and doubled the number of patterns sold.
Tourmaline & Thyme Quilts open a direct online shop to provide another outlet for patterns and some fabrics for those patterns.
With the help of my awesome pattern testers, Tourmaline & Thyme Quilts published 31 new patterns for sale in 2020. All of these are available in either the Etsy shop or the online shop. I would like to gibe special thanks to Laura Willard, Cathy Drum, Rebecca Carr, Patricia Deisch, Tammy Howell, and Carol Casey.
In addition to those patterns, two patterns were created for Northcott: Rustic Refuge and Pinwheel Puzzle.
Five patterns where purchased by Timeless Treasures for their free projects: Bedazzled Butterflies, Holiday Stars, Nature's Calling, Frosty Frame, and Fall Glory.
We established Quilt for a Cause, where the proceeds of certain quilts goes to specific charities: HOPE, Never Forget, Justice, Forget Me Not, and Mustache.
Made over 600 face masks, over 300 of those were donated to charity.
Tourmaline & Thyme Quilts signed two magazine contracts with Golden Peak Media – Quick and Easy Quilts (June/July 2021) and Quiltmaker (July/August 2021).
We conducted our first successful quilt-along for Never Forget.
Joined a Facebook group for quilt designers, which has been invaluable. This group of ladies are so supportive and give great advice from life experience.
Entered a quilt in the Diana Cherrywood Competition. I have my fingers crossed to be on the finalist list, which is announced in January.
We started a direct marketing campaign to quilt shops.
Our blog and shop were visited by people from 49 countries.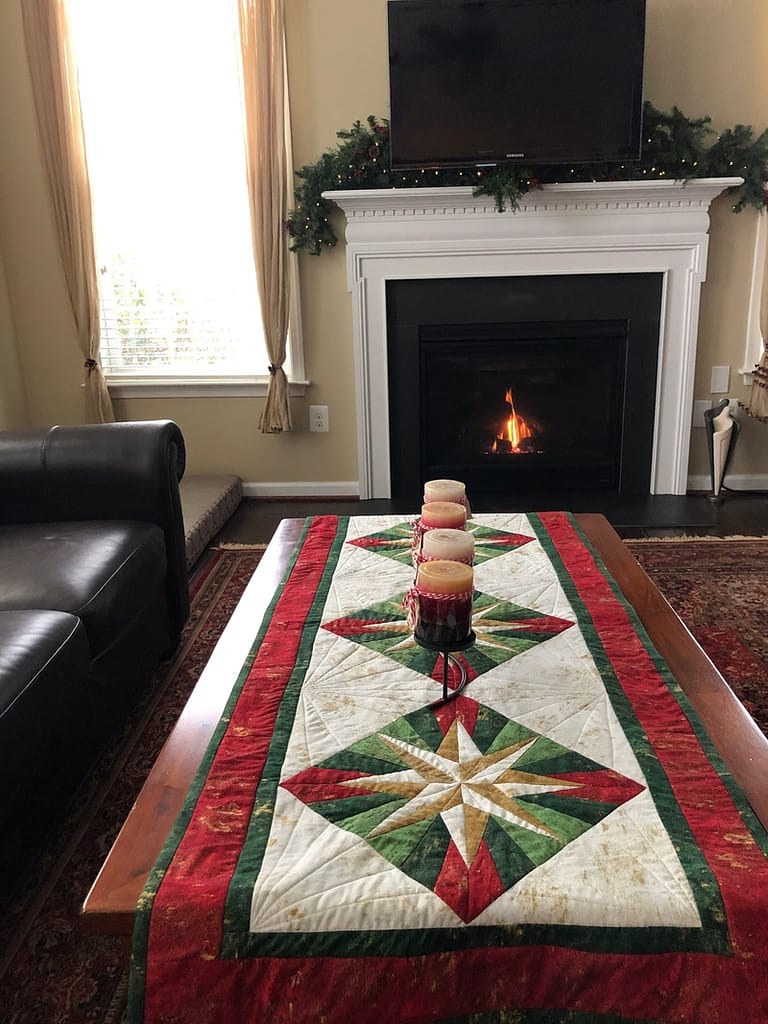 Shining Star Runner – best selling pattern of 2020
With 2020 safely behind us, what is on my bucket list for 2021? First, I am incorporating my lessons learned from 2020. Then, I have added a few key objectives to my 2021 plan.
Launch the Whimsey pattern collection. The six patterns are already designed and will be tested shortly. One of them features Timeless Treasure's Tonga fabrics, which will be released May 2021.
Add Cricut templates to the shop, which will hopefully be a good add for the Whimsey collection.
Host at least two quilt-alongs: Kitty in the Middle (February) and Forget Me Not (July).
Develop on demand and online classes. Right now, we are looking for the right platform for this.
Continue my relationships with Northcott and Timeless Treasures and perhaps add a new fabric manufacturer.
Continue direct marketing to provide patterns for shops and foster relationships with shops.
Revise early patterns to meet brand standard.
Spend more time on my longarm to relieve the backup of quilt tops on my UFO pile and add items my trunk show.
I hope all of you can count your blessings for 2020 – there had to be at least a few. I also hope that 2021 starts off on the right foot for you. We all start the year with great dreams and plans. May you have the energy and perseverance to make yours a reality in to 2021.
Happy Quilting and Happy New Year!
Laureen