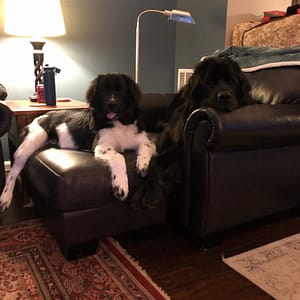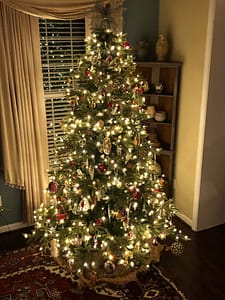 We would like to take this opportunity to wish you a Merry Christmas, Happy New Year, Happy Kwanza, Happy Hanukkah (a little late), and any other joyous holiday you celebrate this time of year. Now is the time to spend safely with friends and loved ones, if you are able. May the memories you make and love you share will give you strength and peace throughout the year.
We are enjoying having our boys home for the holidays and hope next year to be able to visit our extended family. In the meantime, we are thankful for that we have each other and our fur babies, Fergus, Rigby and Edmund (cat doesn't like posing with the dogs…). And in case you are curious, the dogs are not allowed near the Christmas tree. Their tails would create havoc in this time of peace!
We are so fortunate to be part of such a supportive quilting community. Every year, I become more thankful for the wonderful quilting people who touch my life. They gladly share their advice, which helps me to become a better quilter, designer, pattern writer, and business person. I can only hope I give as much in return.
It is thanks to all of you that this year has been such a good one for us at Tourmaline & Thyme Quilts. We are in the midst of planning for next year to provide an even better experience for you.
Wishing you peace, love and joy!
Laureen