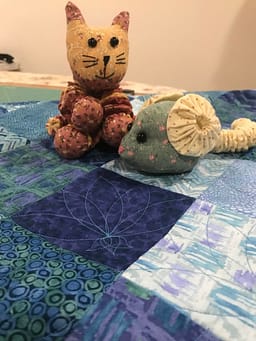 A year ago, I had my business plan drafted and was signing paperwork to make my dream of owning a quilt business a reality.
Today, I have a shop on Etsy that has my patterns for sale and the shop is doing well. I have about a dozen patterns in the progress, which will be added to the store. Patterns and quilts have been custom designed and made for people. I have become a APQS Certified Longarm Quilter. That is a lot of accomplishments for a year.
This year, I will work toward adding fabrics and kits to my Etsy shop. In addition, I will be making video tutorials for those kits.
That will require a bit of rearranging my home studio. Now that my Bernese Mountain Dog, Coco, is healthy and my Newfoundland puppy, Fergus is almost trustworthy, I might be able to move back into my studio and out of our dining room! I know that would make my husband happy 🙂 Now is the perfect time to start making some of those transitions as I have both of my sons home from college.
So many positive things have happened over the past year and there is the promise of so much good in the next year. That is my focus! I hope you can count your positives for the past year and develop goals for this next year, even with the uncertain ahead.
Happy Quilting
Laureen