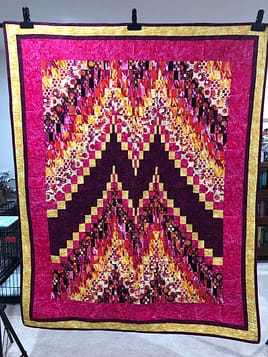 What do you give a college co-ed for Christmas? A quilt made from her favorite colors combined with her school colors! My amazing niece Jae is a diver at University of Minnesota. So I used her favorite color pink, her school colors maroon and gold, and a very cool jelly roll that combined these three colors to make a vibrant quilt.
I had always wanted to make a bargello quilt and this seemed like the perfect occasion. Using a long strip for the main initial color and jelly roll strips for the rest, I was able to create a bargello design that also looked like the letter M. The bargello technique involves making a strip quilt that is cut again into strips of varying lengths and resewn as you move pieces from one end of the strip to another to create the bargello movement.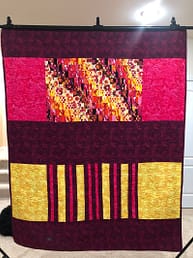 As usual, I had a little extra fabric to create a fun design for the back of the quilt, So I made a small bargello panel for the back. The extra strips from the border fabric made an interesting striped pattern as well. Why not have a little fun on the back?
The quilt was finished with an edge-to-edge design. Why have the quilting compete with the piecing? Because the colors were so bright, I picked a lovely King Tut variegated thread that would blend with all of them.
Of course, the most important thing is the reaction of the new quilt owner. I think from her smile she likes it! Yeah!!
If you would like to make a version of this quilt, the pattern for the quilt front is available on my Etsy Store.
Happy Quilting!
Laureen