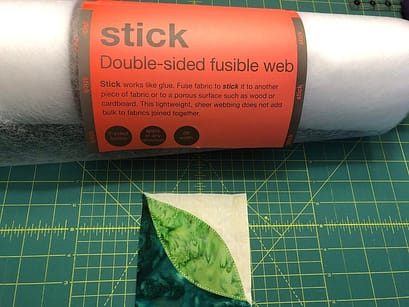 Have you ever played with fusible web? If you haven't you are missing out on a great way to "baste" fabric!
My first introduction to fusible web was a class I took from Sue Pelland – Gradations. She is a great instructor and I learned so much from her. Mostly, I learned that I could applique without burning my fingers or bleeding from needle turning. Sue uses MistyFuse because it adheres well, doesn't add bulk, and doesn't gum up her needles.
Last spring, I needed some fusible, but couldn't find any rolls of MistyFuse. Something about fabric, elastic and interfacing being almost as hard to find as toilet paper at the time…. So I decided to try a similar product from Fairfield called "Stick." It is available from most craft stores, Etsy, and Amazon. It works much like MistyFuse.
If you have never used fusible web before, here are some pointers.
Wash your fabrics first. The finished chemicals on the fabric prevent fusible web from working as well as it can.
Fuse the web to the fabric before you start cutting your shapes. Otherwise, you will have twice the cutting. When fusing to fabric before cutting, make sure the fabric is on the bottom and the fusible is on the top. Always use a Goddess Sheet or other non-stick surface between the fusible and your iron to keep the iron clean.
Use pressing cloth or Goddess Sheet even when pressing the fused fabric to another fabric.
Use a dry heat on your iron.
Adjust your iron temperature as needed. If it fuses to fast, lower the temperature. If it takes too long to fuse, raise the temperature. Not all irons are created equal.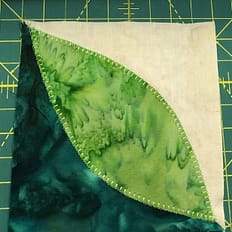 Once you have fused your fabrics together, you should sew around the edges to ensure the fabric doesn't peel. The most common stitch to use is a blanket stitch (see photo) because it anchors the applique to the backing. However, you can use any decorative stitch.
Fusible web makes applique fun and fast. That is why I am using on my current project! My fusing is done, but now I have a lot of edge sewing to do before I put the pieces together. So I had better get back to sewing.
Happy Quilting 🙂
Laureen