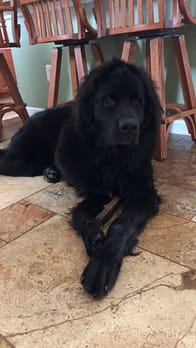 Yesterday, I received some unwanted assistance with my quilting. Many of my readers know that our youngest is a 10 month old Newfoundland puppy. He is a typical toddler – full of energy and demanding of attention. This makes hand needlework a bit challenging at times. It is easy when he is sleeping (75% of the day). Then, I need to wear him out with a walk and a meal….
The tricky time is when he first wakes up and tries to get my attention. He plods silently over and puts his sloppy wet face right on my lap, which is typically where my needlework sits. Working in another room is not an option… Like every toddler, he cannot be left alone for long without mischief. His favorite is finding things to chew from the counter (mail, towels, headphones, etc.), which is at nose level for him. So I need to sit with him to keep him out of trouble. I have tried barricades, like stools or an ottoman, but he pushes those out of the way or hurdles them with great ease. That leaves me to be on a constant vigil.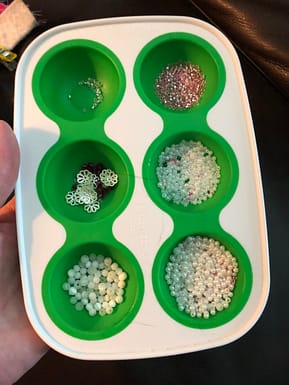 As I mentioned a few days ago, I am working on a competition piece – Diana. It has tons of beading for embellishment as Diana was known for her glamour. Well, beading and Fergus are a very difficult combination. I have put the beads in a little ice cube tray to make them easy to reach. I put a some in each bowl, which also minimizes the damage if Fergus knocks it over. I try really hard to keep him from drooling on the needlework or tipping over the beads. If you thought beading was difficult – try it when evading a 130 pound puppy.
Yesterday, I failed. Fergus snuck over to see me. I managed to move the needlework in time, but he got to the tray with the beads. He stuck his big, black, moist muzzle right one of the compartments. When he brought his face up, I could not stop giggling as I stared at this shiny nose dotted with tiny white pearl beads. He looked like a non-pareil! Unfortunately, I didn't get time for a picture, because I had to stop him from licking them off his nose. I spent the next ten minutes chasing him around to get the pearls off his nose and the floor where they fell. He thought this was great fun…
Fergus is fine. The project is not damaged. I have found a better place for the beads. All is well…. for now.
Back to beading as I have five days to finish.
Happy Quilting 🙂
Laureen