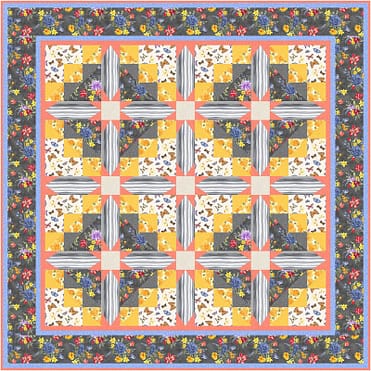 There are many femme fatale in history, like Mata Hari, Lucrezia Borgia, Salome, Delilah…. They all have these things in common – beauty and a seductive power that men can't resist, which usually leads to their destruction. Mata Hari was a spy in World War I. Lucrezia Borgia helped her family gain power in Italy during the Renaissance. Salome was the downfall of St. John the Baptist. Meanwhile, Delilah cut Samson's hair and drained him of his strength.
Windham's newest fabric line due to be released in December is aptly named Delilah. It is stunningly beautiful and definitely draws you in so you can't resist. The large floral print is magnificent and needed a pattern that could showcase them. The flowers are paired with beautiful butterflies prints and framed by soft stripes. Femme Fatale was designed specifically for this purpose, to give these prints the center stage.
Femme Fatale is traditionally pieced with template for the star stashing. It is a good quilt for confident beginners as it has simple triangle construction. The finished quilt measures 78″ square, which makes it a great accent piece for your room. The pattern is available for retail and wholesale in our shop. It will be coming to your local quilt shop soon!
We hope you will give Femme Fatale a try and let this pattern capture your heart.
Happy Quilting!
Laureen