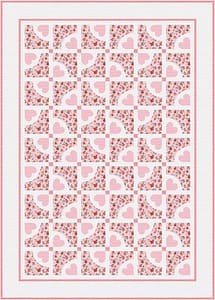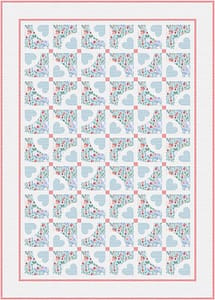 How many of you remember the Strawberry Shortcake characters?  The adorable lead character was created for greeting cards and eventually became a franchise with ornaments, toys, television specials, coloring books, and so much more. What captivated me about the character was her adorable nature, which was as sweet as her name.
The first glimpse of Dear Stella's Fairy's Forest brought Strawberry Shortcake to my brain. They had that same adorable sensibility. The fabric was sweet and simple and utterly charming. I wanted to design a quilt that incorporate those same sentiments. A simple drunkard's path was combined with fused applique hearts and thin sashing to do just that. I combined these simple elements in a charming quilt, "Fairy's Waltz."
Fairy's Waltz is shown in two colorways – blue and pink. They are easily combined to make a pink and blue quilt, which is very sweet. The fabric requirements for Fairy's Waltz will make a lovely throw of 52″ x 73″.  It is easy to add more blocks for a bed quilt or fewer blocks for a baby quilt.
Don't let the terms curved piecing or applique turn you away. The curved piecing on a drunkard's path is easy to master. Blocks are cut a little large and trimmed to size, which takes a little of the anxiety out of the curves. Meanwhile, fusible applique is quite easy, especially if you have a cutting machine, like a Cricut. The cutter does the hard part, while you have the fun of ironing them on and using decorative stitches to keep them in place. If you don't have a cutter, don't fret, the hearts are easy to cut by hand.
The Fairy's Waltz pattern is available for retail and wholesale from our shop. We really hope that you will add to your skills set by making Fairy's Waltz!
Happy quilting!
Laureen