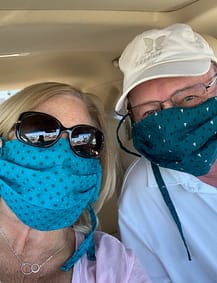 In the past few weeks, we have made and distributed over 400 masks in eight states. A good portion of these have been donated to senior centers, church groups and medical offices. We are still making masks when we receive a request. Many of these requests come from friends and neighbors.
For those still making masks, you may have noticed that elastic, interfacing and flannel are all becoming very scarce. That doesn't mean mask making is impossible, it just means being flexible in your design. Instead of elastic, use ties – either cotton bias or t-shirt variety. Rather than flannel and interfacing, upgrade your masks to batiks, which have a higher thread count, so more protective power. Finally, recommend to wearers that they secure the mask with nylon pantyhose. Yep, layering tights those over the masks improves the fit and filter capability. So the safety bandits have the right idea – they just need to add the notorious nylons. No need to cover you whole face though – just the breathing zone.
Given what we know so far about the virus so far, we will be using face masks and social distancing for some time even when stay at home orders are lifted. With medical grade masks still in short supply for hospitals and emergency responders, other organizations are still looking masks. If you are making masks and want to help one of them, www.weneedmasks.org has a list of facilities needing masks, the acceptable type, and requested quantity. The facilities are organized by state as some will accepted mailed packages, whereas others would like them delivered. Most organizations will accept surgical style masks, but some have provided their own patterns.
One complaint frequently heard by people not used to wearing masks is that their glasses fog up. The AARP recently published an article addressing this issue. They recommend washing glasses with soapy water and allowing them to air dry. This leaves a thin surfactant film that repels the condensation from your breath. In addition, loosening the mask slightly at the bottom of the face to direct your breath down instead of up. Don't loosen it too much or the mask won't work at all!
I am continuing to sew masks, but have a few other projects on my plate as well. The instructions for the Dogtooth Delight quilt are almost done. Several other quilt pattern instructions are in the works. Next month, I will start sharing my Cabin Fever design in remembrance of this time spent at home. A few more UFOs have been created and others are more complete. In fact, there are eight tops waiting for their turn on my longarm. Most importantly, I am trying to get my studio organized so that I can start providing video instructions. Right now, viewers would be too distracted by the disaster, as am I!
Happy Quilting
Laureen