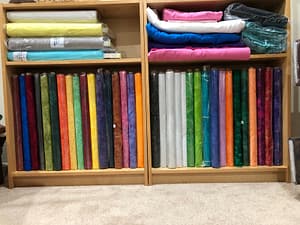 Friday was so exciting because I received a HUGE shipment of fabrics. Well, for me it was a huge shipment of fabrics. We now have dozens of Hoffman fabrics available in the store. So I spent the weekend getting them into the shop. The fabrics are primarily Watercolors, but there are also some new Mottles and Luxe fabrics. Mottles are great for masks because of their multicolors. Luxe have lovely threads of metallics running through them, so they are the perfect pop for holiday quilts. 
The good news is the fabric shipment will enable us to kit some of my patterns. Yeah!! So you when you shop our patterns, you will now see three potential options: electronic pattern, paper pattern and kit.
The bad new is that not all of the fabrics ordered arrived. In fact, I am still waiting for dozens of bolts to finish other kits. Many are still on backorder due to COVID. There are several reasons for the COVID fabric dilemma. As many of you experienced, fabric flew off the shelves during the initial lock down because people were either making masks or quilting to relieve their boredom, anxiety, etc. Second, fabric manufacturer's received large orders for black and dark fabrics to make masks. These were going to lots of people in law enforcement and the military. Third, factories, warehouses, and transporters were all subject to similar distance rules and had people out sick, so that slowed the pipeline down even farther. Now, there is a new slower, stocking rhythm we are getting accustomed to. We work with what we have and are learning patience to wait for what we don't have. Probably not a bad philosophy to live by.
More good news. I will be ordering even more fabric so that some of my upcoming designs will be available in kits even sooner (provided they are in the manufacturing pipeline).
Finally, today I will be getting a bunch of samples from Timeless Treasures. These samples will be used to make patterns of theirs I have designed. It will be so much fun. The hope is to tape some of the steps, so that it will be even easier to make them.
Time for me to get stitching.
Happy Quilting! 🙂
Laureen