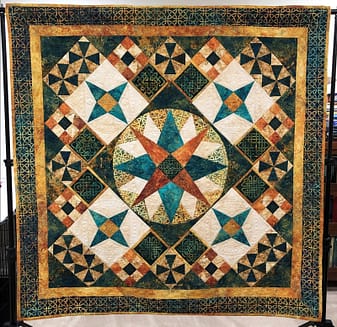 I am so excited and pleased to announce that my Etsy store is now OPEN for business! This was a HUGE step for me. I am selling my patterns online now, which was my goal for 2019.The patterns are available digitally, so there is no waiting time – other than your internet connection and printer speeds.
My first pattern available is the Celtic Medallion. Celtic Medallion quilt pattern combines traditional piecing with foundation piecing to make this stunning on-point quilt. This pattern includes curved piecing, Y-seams and mitered corners. The step-by-step instructions and color diagrams will help you conquer these to make the five blocks and assemble the quilt. The five blocks are Star Wheel, Kaleidoscope, Priscilla, Nine Patch and Outline.
I will keep everyone posted as more patterns become available. If you have a preference for ones that I should work on first based upon the designs I have posted so far, please let me know!
Happy Quilting!
Laureen