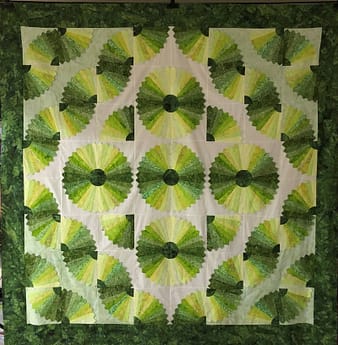 My Dresden plate (nine 9 3/4-inch blades) was finally assembled in an 8 x 8 block quilt! The 10-inch blocks were sewn together in the pattern I had designed. I had several to chose from. Then, 6-inch borders were added to finish it off.
It didn't take long – less than a day. Of course, it would have gone a little quicker if I had paid more attention to the direction of the colors! I only had to reorient a few blocks….
Now, I have to finish cleaning off my longarm to really finish this quilt.
If you are interested in the pattern, please let me know.
Happy Quilting 🙂
Laureen