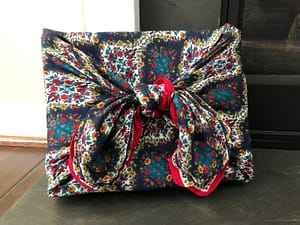 As quilters, we LOVE fabric. So why do we use wrapping paper for our gifts? Most wrapping paper is thrown straight into the trash. The glossy finish makes it difficult to recycle. Even recycled wrapping paper is re-processed which takes quite a bit of energy and creates waste with the plastic sleeve used to protect it during shipping and on the shop floor. Gift bags may get reused a few times…if the recipient is mindful. It seems like such a waste each year of resources and money to ditch the wrapping paper after a few photos and exclamations.
This morning, I was reminded of an ancient Japanese technique of wrapping gifts with fabric called FUROSHIKI. For over 1000 years, the Japanese have used and reused fabric to wrap gifts and packages with a simple square of beautiful fabric. The beauty of this technique is that you can use scarves, linens or a yard of fabric. Some tutorials encourage you to finish the fabric square, but it isn't necessary, especially if your crafty friend may reuse the fabric in another project. There are a variety of techniques that can be used for all sized and shaped gifts, including boxes, bottles, and bowls. Some of the techniques even make handles for the gifts. The fabric can be embellished with flowers, feathers, rings, and all sorts of other items. The idea is that the wrapping is reusable by either the giver or the recipient.
I searched YouTube for some tutorials about Furoshiki and I found dozens of examples. Rather than create my own, I thought I would share a list of some of my favorites with you.
So why not double your gift simply with the wrapping and ditch the wrapping paper?
Happy Quilting
Laureen