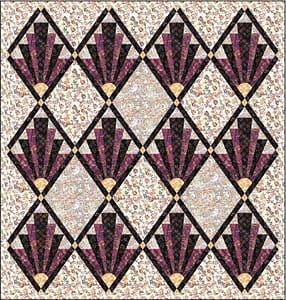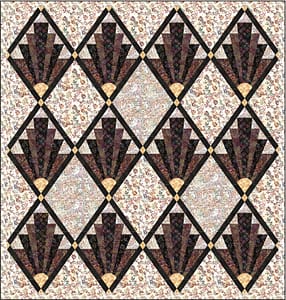 There is something simplistic and intriguing about art deco. I have found myself admiring the clean lines of some designs and the connection with nature in others. The embellishments are stripped away to show the essence of the image. This is true in architecture like the Hoover Dam and Empire State Building or sculpture like Christ the Redeemer in Rio de Janiero or Man Controlling Trade in Washington, DC.
Those simple lines transcend so well into quilting. If you compare quilt blocks created during the Art Deco period, they reflect the simple lines of the time. Embellished crazy quilts become passe. Simple Sun Bonnet Sue came into vogue. New York Beauty blocks, which resemble the top of the Chrysler Building, became the rage.
One motif, which strikes me in particular, appears in many media: tiles, wall paper, woodwork, and stained glass. That is the sunburst. This sunburst is the focal element of the Deco Vibe quilt. These large blocks are made with foundation piecing, which makes quick work of it!  Blocks are assembled in strips and sewn together to complete the on-point quilt. This is a large quilt measures 92″ x 96″.
The Hoffman Summer Romance collection is the perfect pairing with this pattern (pg 87 of the catalog). The rich earth tones and golds are reminiscent of the art deco period. It would also look amazing in the crocus fabrics of the collection!
The pattern is available in our shop now.
Happy Quilting!
Laureen