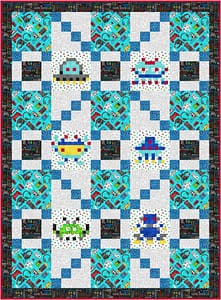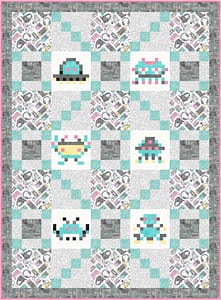 As with most young people, my sons love their video games. In their 20's, they still play Minecraft, which apparently is quite normal. It is like digital Legos and who doesn't like to play with Legos? The staying power of a well-crafted game, like Minecraft shouldn't surprise me. Some of the games from my younger days have made a resurgence, like Space Invaders and PacMan. These iconic games seem to have some addictive quality.
My sons have asked why I don't play video games. That is when I had to admit that I did when I was younger. They were s0 addictive, I had to switch to a healthier hobby – QUILTING! Of course, that got a good laugh from the entire family.
Today, I get to introduce a quilt that combines these two addictions – Creature Craft. The quilt features Northcott's Gaming Zone fabric collection. The fabric has both pastel and primary colorways to fit the likes of your favorite gamer. The quilt pattern includes a traditional block and six pixelated creatures. The creatures are made with simply straight-line piecing, so it is appropriate for a beginner. The quilt as designed finishes at 66" x 90", which will fit a twin sized bed. It can be made larger or smaller by adding blocks. Since the quilt is a beginner pattern, it may be a good one to help convert your gaming addict into a quilting addict. If they aren't ready for the switch, at least you can make them a quilt they can definitely relate too.
The Creature Craft pattern is available for retail and wholesale at our shop.
Happy Quilting!
Laureen