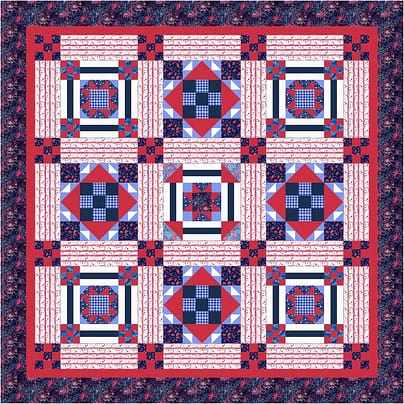 While frigid temperatures, snow and ice grip the country, I am thinking of warm summer days and picnics. Why? Because of this beautiful quilt pattern that transports me to the scenes of a BBC period movie, where the the characters are sitting on a large quilt enjoying a basket of goodies, a bottle of wine, and a game of something. The horse and carriage are waiting nearby, while the children are chasing something. Some drama is about to unfold with the adults, or maybe a romance is budding. Can you see it too?
If you can make nine patches, flying geese, and half square triangles, you can make this quilt. There are three compound blocks (meaning they have multiple block elements): Burnham Square, Ribbon Square, and Summers Dream. The blocks are separated by wide sashing and nine patch cornerstones. The quilt is 94-inches square when finished.
The quilt features the cheery Dear Stella collection American Summer. The collection has images that will bring you to that summer place, red and white stripes, checked plaids, flowers, and cherries. The two are perfectly paired.
The pattern is available in our shop now. Fabric should be available in local fabric stores soon.
Happy Quilting!
Laureen