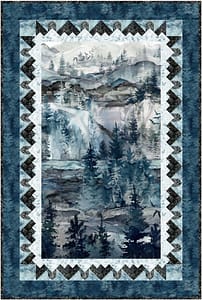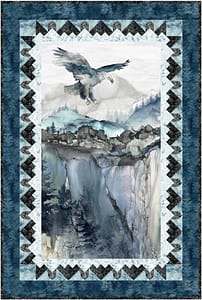 I have always marveled at raptors. Hawks, eagles and falcons have such majesty about them. They are sentinels perching on trees, lamp posts and fence posts, waiting for some unwitting prey to cross their path. We are so fortunate to have a pair of nesting eagles near our neighborhood. Watching them soar overhead is quite a sight to behold. Of course, our dogs are a little leery of these hunters. I find a little humor in it, as our pups weigh 80 lbs and 150 lbs. They are bit more than even an eagle will take hunt. But the canine's instinct is still wary and cautious.
Upon first sight, I was taken by the beauty of these Northcott's Soar collection by Deborah Edwards and Melanie Samra. The raptors in it are amazing. They inspired me to modify the traditional block Hawks in Flight to make a border for these gorgeous fabrics.  The border is 7-inches wide, so make a lovely wall hanging at 37″ x 55″. Adding more blocks around the quilt could make a beautiful throw.
We made a tutorial on how to make the Hawk block.  You can watch it on our YouTube channel. We are slowly building a library of the blocks we use in our quilts.
Circling Hawks is available for retail and wholesale in our shop.  The fabric will be available soon from Northcott.
Happy Quilting!
Laureen