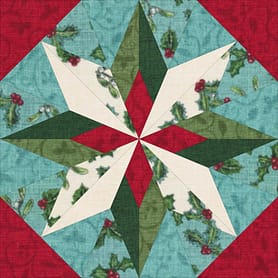 This morning, I had a wonderful surprise in my email – one of my patterns was published in the EQ Newsletter – August 2019 Mid-month Update.
Each month, Electric Quilt publishes Behind the Mouse, the Electric Quilt Blog. In that Blog, there is a Design and Discover section, where they spotlight a type of block design. They describe how to use the software to design with that type of block. Then, they offer designers an opportunity to post their designs using that block or technique. Since I design using EQ8 – the newest Electric Quilt design program, I take this opportunity to hone my skills.
The design spotlight for August was a special design technique called PolyDraw. That technique allows you to make more complex block designs like stars and kaleidoscopes. Those who know me know that I like a challenge, so gave it a try. I have been in a Christmas in July mood; therefore, I decided on a Christmas Star. I submitted the design, which is posted on their website. The fabric featured is Spruce Mountain by Deborah Edwards.
Imagine my surprise when I received the mid-month newsletter featuring my block on page 4. This is my first official design publication! I have attached a copy of the newsletter below for your reading enjoyment. If you would like directions to make this block, please email me at lsmith@tourmalinethymequilts.com.
Happy Quilting!
Laureen