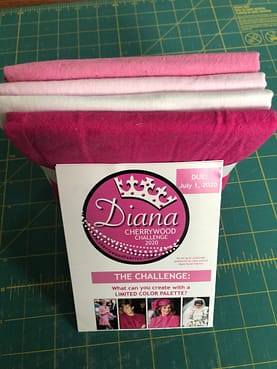 For the past three weeks, I have been stretching my creativity for a quilt challenge – Diana, Cherrywood Challenge 2020. For the challenge, you must use the four chosen Cherrywood fabrics provided (you can also use 4 Cherrywood coordinating fabrics for up to 30% of the challenge). As you can see the theme is PINK because it was Diana's favorite color.
The challenge is to use these 4 fabrics to create a 20 inch square quilt with Diana as your inspiration. Quilts are judged on originality, creativity, design, impact, workmanship and variety of theme. The real trick, completing these by the deadline of July 1st – I had just one month from the time I learned about the challenge.
This is my first time entering a competition like this. So I bought the books featuring the last two competition entries. They were Bob Ross (basic paint colors) and Prince (purple). That gave me an idea on what types of quilts were catching the judges eye. The people who made these quilts were very talented and inventive. It is a little intimidating!
My next step was to scour images of Diana to see what caught my attention. This was not easy. I am not a pictorial quilter, which many of the previous entries were. So this is completely out of the box for me. I am all for learning a new technique, but a Challenge may not be the best time for that. So I spent the time while waiting for my fabrics to arrive wracking my brain for an idea. I was committed now. And anyone who knows me, will tell you once I get an idea, it is difficult to stop me. I can be persuaded to alter my commitment, but not to quit.
Then, I found the idea on her wedding invitation. It was an image that I could work with. Of course, I had to mold it to my talents and bring more of her essence into the idea. Diana was known for many things: charity, her love of roses, and her glamour. A vision was creeping into my head.
I dug through my supplies, pulling out what I thought I might need and ordering a few things that I might want. This is when being a packrat of embellishments is a good thing.
I am sure you are all wondering what my vision has become. Unfortunately, it is bad luck to post images of the full quilt before the judges make their decision. The finalists are announced on July 13th. If I don't get in to the finals, you will see the full image then. If I manage to get to the finals, you will all have to wait until August 4th!
Don't worry, I will provide a few sneak peaks in the next few days.
Happy Quilting and wish me luck!
Laureen