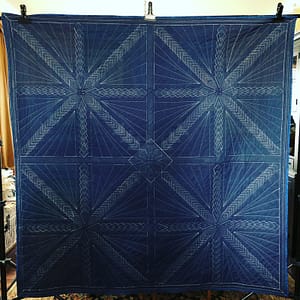 Last week, I was feverishly trying to finish a quilt before a magazine deadline. As many of you can appreciate, when you are on a tight deadline, things that never seem to be a problem, become a problem. Even the good things can work against you.
First, I was very careful to pick fabric that was already in stock. Unfortunately, as many of you know, ordering and shipping takes a little longer than it used to. Thankfully, my friends at Timeless Treasures did a wonderful job of following up and keeping me calm as the fabric made its journey. They really are a great crew.
I made sure all of my other supplies were well stocked – thread, batting, backing, etc. All of that went well.
The pattern I designed was foundation pieced, which meant I needed to print the foundations. I don't know if any of you have noticed this, but printer ink has become a scarce commodity. I ordered ink in October 2021 and it STILL had not arrived. My black ink levels were getting low and I was desperate. I ordered from three different places hoping one would come through. As luck would have it – all three delivered within 48 hours of each other. The timing couldn't have been better.
You are right, a few foundations do not take much ink, but two large pattern orders do. When it rains, it pours! I was so excited to get the orders and pride myself on quick turnaround. And yep – it was the same week as the quilt was due. It was time to call in reinforcements! My son came over and spent eight solid hours folding patterns and stuffing bags. Isn't he awesome! The patterns were shipped to happy customers 🙂
Meanwhile, I was stitching my heart out. The quilt came together quickly, as planned. The quilting actually took longer and that is where the issue was. One of these days I will limit myself to simple quilting. But I love quilting so much, I can't seem to help myself. There was a new cone of thread and a new needle. My bobbins were wound. The tension was adjusted. I had a plan for quilting and marked my rulers. I had a rhythm going on my longarm and had even found some music that kept me focused and at the right tempo.
Everything was going so well. I was over halfway done with quilting when it happened. I heard CHA-TINK! That is not a normal sound for my longarm. I stopped immediately to investigate. My needle was GONE! What? How does a needle just disappear? I looked everywhere – the quilt top, the batting, the floor below the quilter…. No NEEDLE! I even took my magnet and ran it around the area in case my eyes were deceiving me. I didn't have time for hide and seek. I leaped into recovery mode. Forget the needle. Replace it and move on. I had a deadline.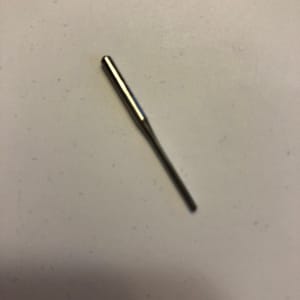 The finish line was fast approaching. I had finished quilting one border and fifteen blocks. I had one block and three borders yet to quilt. In my mind, I was 80% complete. Yes – I calculate percent complete while I quilt to keep me moving. That is when I heard it again – CHA-TINK! Really – again? Yup – the needle was GONE. I was being careful not to move too fast or jerk. It was smooth and steady, so what was happening? I noticed something this time, that I should have noticed the first time. The needle was gone, but the thread was intact. It ran from the cone right through my quilt. If the thread didn't break, but the needle was missing, there was only one logical explanation. My house is not haunted and gremlins were not responsible. The logical explanation is the needle broke at the eye. That was a first for me on my longarm. Regardless, I had to cut the thread and start over with another new needle.
Once the quilt was finished, bound and shipped, I needed to find the two missing needles. I didn't want anyone to find them with their feet. My husband found the first one. Sure enough, the needle was broken at the eye. I am hoping this is an anomaly and won't become the norm. Maybe it is this pack of needles? Only time will tell. Regardless, it is another lesson in listening to your machine.
Happy Quilting
Laureen