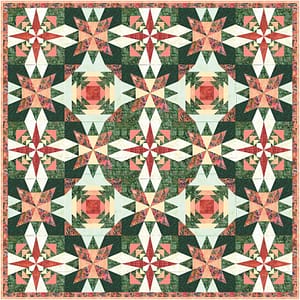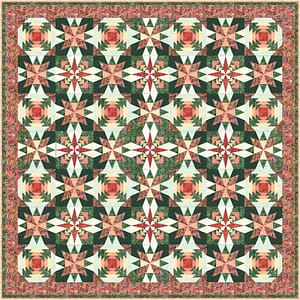 I am an East Coast/Midwest girl. I have never lived west of the Mississippi but have traveled there often. On a few of those trips, I was able to glance the rare desert blooms that most of us only see in photos or in cactus gardens grown indoors. The profusion of colors popping from these prickly hosts always amazes me. It is the brave bee who visits those flowers! The petals on these are so delicate. That impression is what inspired Cactus Rose.
Let me get right to the point – we are publishing a new pattern called Cactus Rose! Cactus Rose is a beautiful foundation pieced quilt designed for Hoffman's "Desert Beauty" collection.  The pattern uses three blocks with different color variations to make this stunning 63″ square quilt. You can add another round of blocks and a larger border to make it a 95″ quilt. If you, are interested in the larger size, let me know and I will make the fabric requirements and layout available. The center row of the quilt pattern would even make a wonderful table runner!
The 63″ pattern is available in our shop, while the 95″ pattern is available upon request.
Happy Quilting!
Laureen