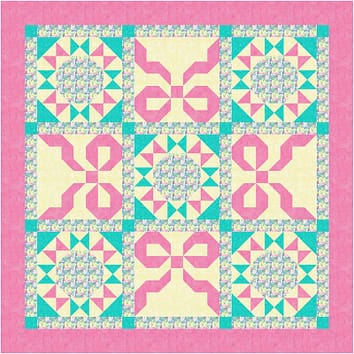 Are you looking for a sweet quilt for the special little girl in your life? Buttons and Bows is a foundation pieced quilt that can be assembled in a weekend. When complete, it is 58 inches square.
The Bow block is based upon a traditional block originally designed by Laura Wheeler for the Indianapolis Star (Aug 21, 1933). It has been adapted to make it simple for foundation piecing. The five sections of the block come together quickly.
The Button block is based upon the Wheel of Fortune block designed by Ladies Art Company in 1897. It has several other names including Button. To me, it looks like the facets of an old Victorian button.
The pattern uses four lovely coordinating Hoffman fabrics, but you can pick colors that fit your girl's or her mom's tastes.
Happy Quilting 🙂
Laureen
PS – If you would like to be a guest contributor, please email me at lsmith@tourmalinethymequilts.com