With each quilt project, I try to broaden my horizons and learn something new. Sometimes that is playing with different colors than I would usually pick. Others, it is adding a new technique for assembling the quilt. Often the design itself is an extension of the fabric or inspired by my surroundings or current events. Regardless, each design broadens my horizons and hones my quilting skills. I wanted this to be an adventure and it certainly is!
What do you do to broaden your horizons?
Do you try new recipes or restaurants? Our taste buds and stomachs have considerable influence over us sometimes!
Do you learn from reading? Maybe you pick a new genre or a new author.
Do you watch the news or read a newspaper? If so, do you always read from the same source, which confirms your beliefs? Or do you challenge yourself to read a different opinion to understand how others may think?
Do you travel not only to see new places, but meet new people and grow from the experience?
Do you take classes either professional or hobby related to grow your skills?
There are so many ways to broaden your horizons and become a more well rounded individual. I know many people who are specialists in their field of expertise. Some even excel at several things. Think of the term "renaissance person". Examples are Leonardo da Vinci and Benjamin Franklin. We can't all be icons like them, but each of us needs to feel we excel at something. Excellence can be a good thing, but we don't want to be one dimensional, We grow by learning and trying new things.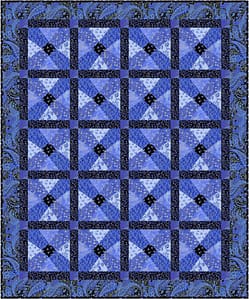 Broadening definitely challenged by me as a design for Timeless Treasures' Sapphire collection. The collection includes beautiful blue and black fabrics, but not a very light fabric. I am used to working with light, medium and dark components. This forced me to rethink "light" and shift my value scale (light to dark or contrast).  Everything shifted a little.
ex This shift is exemplified in the quilt pattern itself as well. It is a nine patch with sashing. However, the nine patch is between a traditional nine patch and an  "X" or Cross pattern. The Uneven Cross broadens toward the corners – thus the name "Broadening."
The finished quilt measures 58″ x 70″ so is great as a throw. The pattern can easily be modified to make it smaller or larger to fit your needs as the Uneven Cross block is repeated throughout. Templates make piecing simple. Broadening is available in our shop and kits will be available in shops near you soon!
Happy Quilting!
Laureen