My blog has been pretty quiet lately… Why? Don't worry, I am healthy and happy. My focus has been on three things and I mean focus.
We are preparing for the Forget Me Not Quilt Along (QAL). There is quite a bit of work that goes on in the background to gather sponsors, make sure the pattern is written and tested, filming "how to" segments, etc. The QAL begins July 6th, but we already have people joining our group in support of Alzheimer's Awareness. Stitchin' Heaven has kits of the beautiful Hoffman Watercolors available for purchase. A portion of the proceeds goes to the Alzheimer's Association of America.
I have to finish a lovely quilt for my publisher. If all goes well, you will be able to see it in the November issue of their magazine. More to come later on that.
SNOWFLAKES! Snowflake Whimsy has taken on a life of its own. Right now, I am adding bling to the Snowflakes. If you would like to see some of the bling in progress, checkout the video on YouTube. My goal is to have the bling completed next week. Why next week? I have entered it into the Quilter's Unlimited Virtual Exhibition and the deadline for photos is fast approaching.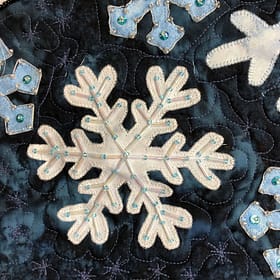 But that is not the only news for Snowflake Whimsy. First, we will soon be offering .SVG files for the Snowflakes. These files will enable people with Cricut Makers to cut the snowflakes more easily and quickly. We know not everyone likes to spend time cutting appliques by hand. That is why the second pieces of news is even more exciting. Laser pre-cuts for the pattern may be available for kits in our shop in the near future! Supplying pre-cuts is the first step to making Snowflake Whimsy more available. Soon Snowflake Whimsy will be available both as a workshop for guilds and an online class! More to come on that later, but you can see why we have been a little quiet as all of this comes together!
Back to bling. I need to meet my deadlines…
Happy Quilting!
Laureen