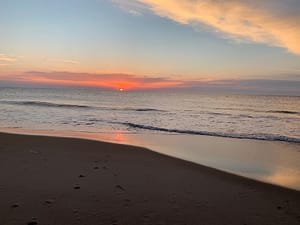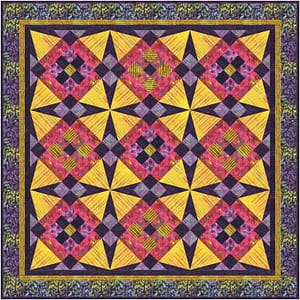 I love it when people share pictures of the sunrise. The palette of the sky is often the indicator for the day ahead. It is wonderful to see the vivid colors fading to pastels as the sun rises further in the sky, reminding of the beauty and promise waiting for us each day. A perfect example is this photo my son took on a recent trip to Rehoboth Beach.
These colors and the idea of the sun's rays reaching out from behind the clouds were the inspiration for Awaken. The featured fabrics are the Baliscape Sangria Collection by Anthology. These vibrant colors pair well with the large blocks in the Awaken pattern. The quilt is traditionally pieced in the center, while the triangles are foundation pieced. The finished quilt is 55″ square, the perfect size for a stunning wall hanging or small throw.
We hope you will enjoy this vibrant piece as much as we do. Awaken is available for retail and wholesale at our shop.
Happy Quilting!
Laureen