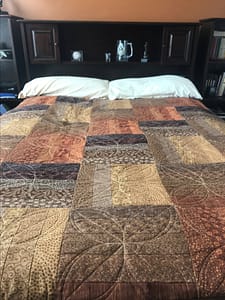 Over coming your fear of cutting (FOC) or just short on time? This rail fence pattern is a great option. I found some great jelly rolls on sale, so I bought four rolls and some coordinating backing. As an aside, I have found that buying the backing fabric at the same time eliminates one of my barriers to finishing the quilt quickly! This quilt came together in record time for me. (Usually quilts take me months from start to finish) This one was completed in less than 3 days!
My first step was to unbundle the four jelly rolls and sort them into four similar color schemes. Once they were sorted, from light to dark. I used some clips to keep the colors in order. This step is very important if you want to keep the color gradients. Some people like a scrappier look, but I am partial to a little structure.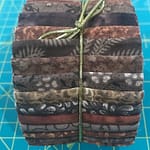 Sew the strips together using a quarter inch seam. I put a tape line on my machine to help me remember the 1/4″ seam. When sewing, be consistent as you add the strips. I tend to add to the right, so I always put the new strip on the top when I sew. This minimizes the use of my dreaded seam ripper. The strips should be 10 1/2″ wide when you are done.
At this point, I highly recommend pressing, not ironing, the pieces. When you press the pieces they won't warp – ironing can cause warping. It is a good to ensure all of the seams are pressed in the same direction.
Using a rotary cutter, straight edge and mat, cut the strips into 10 1/2″ pieces. Other than the binding, backing and batting, this is the ONLY cutting you need to do! So for those hesitant to cut, this is good starting point. Once you have all the pieces cut, arrange them into rows. For this quilt, you will rotate the four blocks. The dark brown and medium brown blocks will always be oriented one way (horizontal), while the orange and light brown blocks will be oriented the other way (vertical).
You are ready to sew the quilt together! Start by sewing the rows together. Press each row, again making sure to press the seams the same direction so they will nest nicely together. As I put the rows together, I pin straight through the seams to help make perfect points.
Press the top one last time, and you are ready for quilting! I decided on a simple quilting design where I stitched in the ditch and used rulers to make four sets of leaves on each square. The center was marked with chalk. The ruler was set on the quilt top and I sewed around it. Finally, I used a simple binding technique to complete the quilt.
If you would like a free copy of the pattern, please see my PRODUCTS page. Happy quilting!