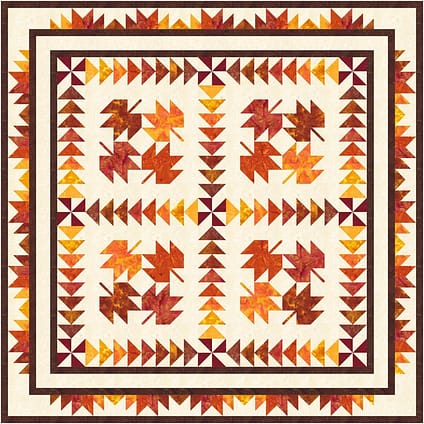 Autumn brings the changing colors of the leaves on trees. Some of the most spectacular are the maple trees in the mountains of New England and the mid-Atlantic where I grew up. As the leaves fall from the tress they dance in the air as the crisp breezes wrap around the mountains. These elements are incorporated in the Autumn Breeze quilt pattern: dancing maple leaves, flying geese, pinwheels, and multi-color mountains.
With autumn around the corner, this colorful throw (60″ x 60″) is a beautiful addition to your collection. These Hoffman Watercolors work well in this pattern.
This new pattern is available in my quilt shop and my Etsy shop. I hope you enjoy this traditionally pieced quilt.
Happy Quilting! 🙂
Laureen