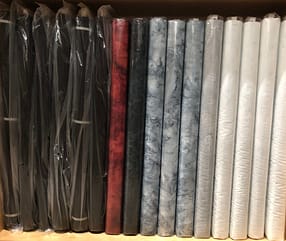 I am slowly adding fabrics to the shop as it is an investment in the future. All of the fabrics so far are Hoffman Watercolors (1895 or 839) that are used in my designs. As more of my designs are published, more fabrics will be added. My goal is for my customers to be able to make the quilts as designed if they want. That means being able to provide kits or fabric by the yard to ensure their success. So you will be seeing lots of additions to the shop both in colors and kits!
Unfortunately, a few of the fabrics I have needed to complete some of the kits are on backorder until September. But that won't stop progress.
So far, I have 19 published patterns in my shop or on my Etsy shop. There are 39 more in process. I love designing! If you would like to see a particular type of design, please let me know and I will see what I can do.
Happy Quilting 🙂
Laureen