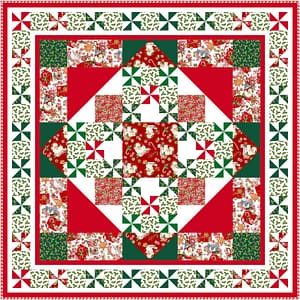 The Christmas holiday has some familiar smell for me: gingerbread, almond, chocolate, and peppermint. Peppermint is probably one of the ones I most strongly relate to Christmas. They remind me of the peppermint candies my grandmother would set out. My mouth starts to water when I think of the candy canes hung on the tree, which were often dipped into hot chocolate. I think of peppermint bark and chocolate peppermint spritz cookies. Yes, peppermint pervades my Christmas memories in the most perfect way.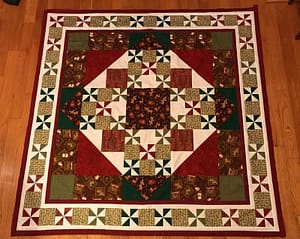 When I glimpsed Northcott's new Peppermint Candy collection, I knew just what to make – Peppermint Parfait. The pattern incorporates lots of pinwheels that resembled my grandmother's starlight mints. It had to have a good balance of red and green. I wanted to incorporate stripes in the border like candy canes. After a few iterations and a suggestion or two from my friends at Northcott, Peppermint Parfait was ready.
It is so much fun to design a new pattern. Then, you need to make sure it can be made. That is where my most excellent team of testers helps me out. They ensure that my measurements work and the steps make sense. Laura tackled this one and created a beautiful version, given the Peppermint Candy fabric isn't available in stores yet. At 64-inches square, it is a great little holiday throw or large table topper.
I can't wait until the collection is available so I can see it as designed! The fabric is due in stores in June 2022, but the Peppermint Parfait pattern is available now for retail and wholesale.