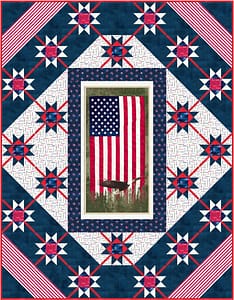 My parents instilled patriotism and humility in me, not through their words, but through their actions. My father served in the US Army Reserve for 33 years, spanning from Vietnam to Desert Storm. My mother served on a variety of local boards, including her local library board. They paid their taxes, followed the speed limit, and voted in each and every election. They volunteered not only for our school activities, but also gave what little extra we had to local charities. We recycled and reused everything, our clothes were often hand-me-downs from friends and relatives. When we outgrew it, clothes were passed to the next family. We had our hard times and our good times, just like every family.
We were taught conservation by growing our own vegetables and working with others in our community to harvest fruit. We helped neighbors with milking so we could all go play. Dad took us fishing. Some days we even caught enough for dinner. Everything was good in moderation, as mom was an expert in economy and stretching every dollar.
My parents took us to museums, theater, historical sites, county fairs, and fireman's field days. We learned to dance and play musical instruments. They believed in a well-rounded education. They taught us tolerance and respect. They were sticklers for please, thank you, yes ma'am, yes sir, and knowing when to zip our lips. School work came first, then play time. When we were old enough, we were expected to get part-time jobs to understand the value of our education and hard work. We went to church every Sunday morning and then visited my grandparents Sunday afternoon. Our community extended beyond our church, township lines and school districts. It was inclusive as my parents believed everyone has something to give. You can learn so much from others, especially those who have different experiences, ideas, and beliefs.
As I grew older, I understood that the lessons my parent taught us, were not that different from others my age. Each parent used their own frame of reference to help their children have a better life and more opportunities than they did.  That is all part of the American spirit, the American Dream.
I was blessed to have the opportunities my parents gave me. I understood that these opportunities were secured by men and women like my parents, who served their country. It is probably one of the reasons I get choked up when I hear taps and proudly place my hand over my heart for the national anthem. Each time I see a soldier in uniform, I thank them for their service. They made this possible.
These thoughts inspired the three quilt designs for Windham's All American fabric collection by Whistler Studios, which is scheduled for release in March 2022. The quilts are full of stars to represent the people who shine to bring light to our lives. One of these quilts is American Spirit, which features their "We the People" panel. It is framed with a unique layout of ribbon stars. We have a YouTube tutorial for the ribbon stars. The quilt finishes 70″ x 90″, which is a large throw or twin sized quilt.
We hope you enjoy this patriotic quilt. The pattern is available in our shop for retail and wholesale.
Happy Quilting!
Laureen