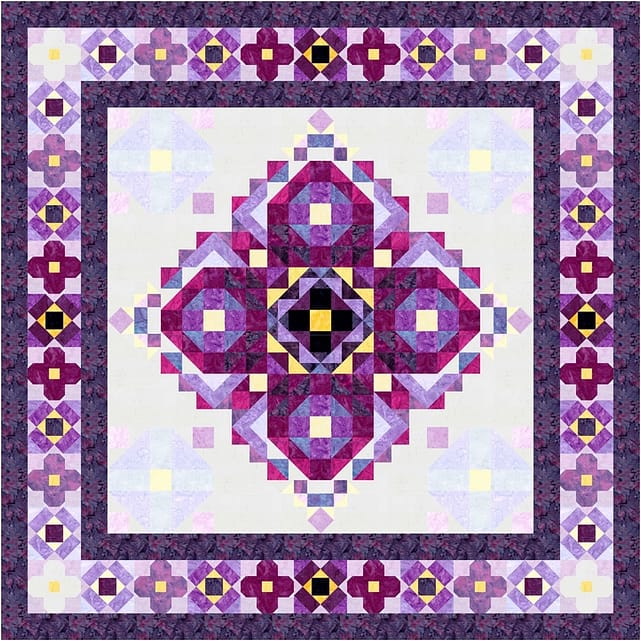 Welcome to the FREE Forget Me Not Quilt Along! Quilt 2 End ALZ and Tourmaline & Thyme Quilts have partnered to bring you this exciting and informative Quilt Along (QAL). We will be posting information about the Quilt Along (QAL) here as well as in Facebook .
The Forget Me Not (QAL) officially starts in July 6th, but we are sharing some preparatory information now. We want you to enjoy this experience as you make this gorgeous quilt and learn more about Alzheimer's. This QAL was designed to raise awareness about Alzheimer's and raise funds for the Alzheimer's Association of America. Hopefully, we will achieve both!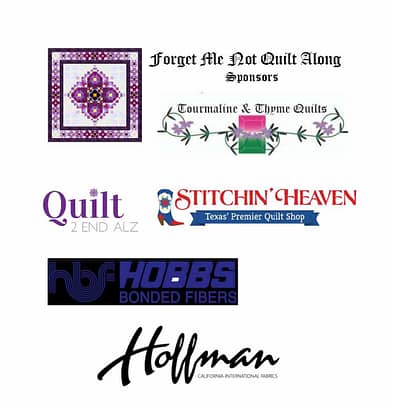 Throughout the QAL, we will be giving away prizes from our sponsors.
The first step to join is to join the Facebook group and/or purchase the QAL. We say purchase even though it is free! The purchase puts you on the mailing list to receive updates to this page and portions of the pattern.
The second step is to gather your fabrics! Stitchin' Heaven is selling kits for the QAL. A portion of the proceeds will go to the Alzheimer's Association of America. They are encouraging people to purchase kits in May to ensure delivery by July. You can also use your own fabrics. A list of fabrics and amounts are listed on the Fabric Map, which will help you keep track of all the colors needed to achieve the effect. There is a video to explain how to use the fabric map on YouTube.
The third step is to prepare your fabrics. If you are using batiks, we strongly encourage you to wash the fabrics to prevent bleeding later. Once the excess dye is removed, press the wet fabric with a hot iron to dry it and remove wrinkles. No need to use the dryer!
Most people use rotary cutters for their quilt preparation. Do you know the difference between some of them? Do you know which one you should use when? Do you know how to safely change the blade? If you want to know more, please watch this video, Sharpening your Skills – Rotary Cutters. Since your rotary cutters are going to be used quite a bit for this quilt, maybe it is time to make sure they are sharp.
Once your blades are sharp, you are ready for cutting. Accurate cutting is just a important as sharp tools and a 1/4-inch seam. We filmed a short video with tips and tricks for you, "Get it Straight."
Some of our members in the Quilt Along are relatively new to quilting. This quilt uses a lot of Half Square Triangles. To help everyone learn/remember how to do these, we created a video tutorial. If you are relatively new to quilting, you may want to watch this video and practice on scraps first. The general formula for HST is Finished Size + 7/8-inch = cut squares. Then, trim to 1/2-inch larger than the finished size. To be safe, cut the squares 1-inch larger than you need for the finished size and trim them to 1/2-inch larger than the finished size. That 1/2-inch will provide 1/4″ seam allowance when sewn to other blocks. If you are practicing, cut 3-inch squares, make the HST and trim to 2 1/2-inch squares. Remember it is easier to trim than sew a scant 1/4-inch seam
For those of you who like to listen to music while you quilt, we have prepared a Memories playlist on Spotify that you are welcome to try. The playlist is free, as is Spotify. (You can pay if you want to remove the ads, I don't). The playlist has songs all about memories and lasts about 3 hours. 
The first post of the pattern will be cutting instructions on Tuesday July 6th. If you have provided your email address, these will be mailed to you. There was a Facebook Live session to kick off the QAL. You are welcome to view it here.
Here is the first set of instructions for the QAL (archived). You will be cutting the fabric into strips that will be subcut as needed. We know many people like to cut all of their fabrics at once, but with 21 different fabrics, in a variety of different sized pieces, we decided to have you cut as you go to avoid confusion later. If anyone has trouble downloading the file, please let us know.
The second set of instructions for the QAL are ready! (archived) You only need to make one for the center of quilt. Starch is your friend in this block because of the triangles. This is the most complicated block. There are videos posted in the preparation to help you learn to do Half Square Triangles (HST) – two at time and Flying Geese – four at a time. You may want to try it first on scrap fabric
The third set of instructions for the QAL are ready! (archived) There are four of these blocks in the quilt. Remember that starch is your friend. This block is simply HST and squares. Make sure to watch the orientation of the HST carefully.
The fourth set of instructions for the QAL are ready!  (archived) There are four of these blocks in the quilt. There is a YouTube video to help with the construction of the the Chevrons. Watch the color placement as the Chevrons are not symmetrical in color.
The fifth set of instructions for the QAL are ready.  There are four of these blocks in the quilt. These are the tips of the medallion, so be careful with trimming. 
The sixth set of instructions for the QAL are ready.  There are four of these blocks in the quilt.
Time to start the border blocks! There are three colors of these blocks so watch assembly closely.
Here are the instructions for the last block! There are three color for these blocks. The final set of instructions have been mailed and are NOT be posted here. If you have not been getting email updates, please email lsmith@tourmalinethymequilts.com to ensure we have your correct email address.