Snippets
We provide simple tutorials through our YouTube channel.
Lectures & Trunk Shows
Classes for Groups
Workshops are offered via Zoom at this time to shops and guilds. Please contact us for more information on scheduling and pricing.
Snowflake Whimsy (6-hour workshop)
Start by making checkerboard borders, which will lay flat. Then, learn to make wheels without any curved piecing! Finally, add fusible snowflakes for a truly whimsical quilt. The finished quilt measures 48″ square, which is perfect for a wall hanging or table topper.
Kits are available for this 6-hour class, which is divided into two 3-hour sessions. During the workshop, students will make the quilt from a either in a kit or pieces they cut before class. Kits with fusible applique pieces and pattern are available from Tourmaline & Thyme Quilts.
BLING! (3-hour workshop)
Do you want to add some zing to your quilts? Find out when, where and how to add elements to a little more spice to your quilts. The mini whimsy quilt collection is used to practice the techniques covered in the class. These 9″ quilts are lovely works of art!
Kits are available for this class and include fabric and appliques for the quilt top. Students will be asked to bring an assortment of notions to audition in the class. Students will be asked to share images of the art they finish as homework. The artwork will be presented to the guild or shop as a mini quilt show.
Membership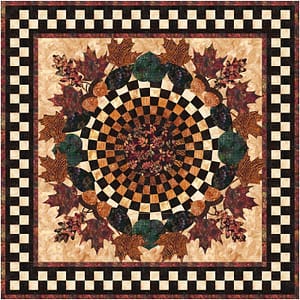 Pick Your Whimsy
Splurge on yourself, expand your quilting skills and have fun with other adventurous people. From picking fabrics to fusing to finishing, get step by instructions to make these unique small quilts. Most measure 48″ square, which is a great sampler size!
Learn to make circles without curves, apply applique, and add bling to personalize your whimsical journey. Confident beginners will feel comfortable. Meanwhile, those with more experience will add to their toolbox. Everyone should have fun with this – it is whimsy after all!
This class allows access to the entire Whimsy Collection. As new patterns are introduced, you will have access through this monthly subscription. Techniques to complete each are included. Bonus materials provided for ideas to personalize your version with quilting and notions. Access to a private Facebook group will provide a community to share ideas, brag and encourage others!
For more information, see our Teachable page.