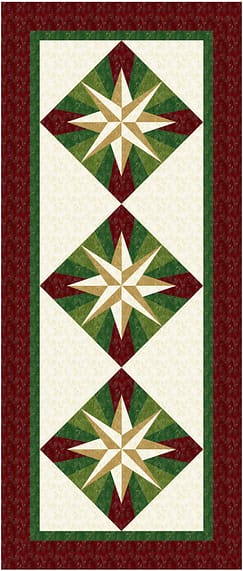 When the kids were younger, I shopped all year long so that I was done by Halloween. Now, I barely start my shopping before Halloween. So, I look for quick projects that I can complete as gifts in between my quilt commissions.
I suspect that I am not alone in my desire to give something handmade from the heart. It should be beautiful, but not look like it was make in a hurry. With this in mind, I wanted to design a simple but elegant pattern for the holidays that could be made in a day. I love stars and they are certainly a symbol for the holidays. Red and green mixed with metallic glitter always remind me of the holidays. So I pulled these elements into a runner that could spruce up any holiday table – Shining Star Runner. By using foundation piecing, the star's points will be nice and sharp. The Hoffman Metallic Luxe fabrics provide a subtle shimmer. Even though I like the red, green and gold, it can be easily adapted to blue, white, and silver for winter or earth tones for fall. The simple block design can be made longer by adding more Shining Star blocks.
I hope you take a day to make this beautiful runner for someone special or yourself. The pattern is available in my Etsy store. Please share pictures of your runners with our readers to inspire them.
Happy Quilting!
Laureen