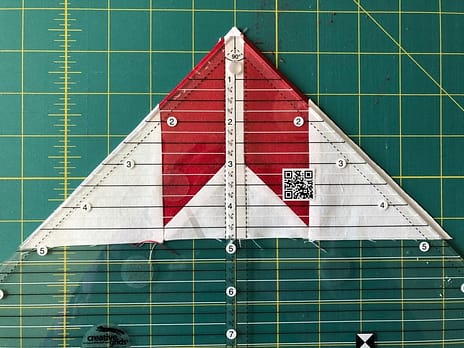 Quilters tend to be collectors and I am no exception. Not only do I collect fabric, but rulers, notiions, thread, etc. In fact, one of my resolutions is to unwrap some of these rulers that haven't been used and put them to good use.
As I was working on my Scandinavian Star quilt, I struggled with my usual square rulers to align the points of the star because of all the wonderful markings I use for squares. I needed to be very careful as cutting on the bias could easily warp the piece. So I pulled out my box of yet to be used rulers to see if I could find some magic. There was a little hocus pocus in that box!
The 90-degree quarter-square triangle was just what I needed. It had clear lines every quarter of an inch, simple 1/4- inch seam markings and most important – center line marks. It allowed me to make quick work of these triangles while assuring 1/4-inch seam allowance for the points and kept the triangle as symmetrical (at least as symmetrical as my piecing would allow). I highly recommend using this ruler for any quarter square triangle piecing.
Have you found any magic rulers you would recommend?
Happy quilting
Laureen