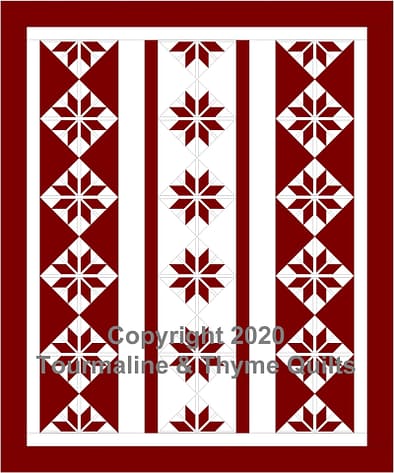 Have you noticed all of the lovely red and white fabric collections in stores lately? I was itching to create a pattern that would use one. I was also inspired by the Scandinavian designs I have seen this winter. They are a bright spot for a cold winters day. They cheer you up when the weather is dreary. They can adorn a room from Thanksgiving until spring without looking too "Christmassy." I love their versatility and the joy they bring to a room.
The first step was to design an easy star pattern that doesn't have any Y-seams. That meant connecting the triangles (star points) with strips. Once the stars were designed, they needed the perfect setting. Based upon some of the nordic weaving designs online, stripes seemed to be appropriate.
Of course, I needed to make sure the pattern would work as written. So last week, I put this beauty on my table. It is 60 x72, the perfect size for cuddling on the couch. It still needs to be quilted – those photos will come later.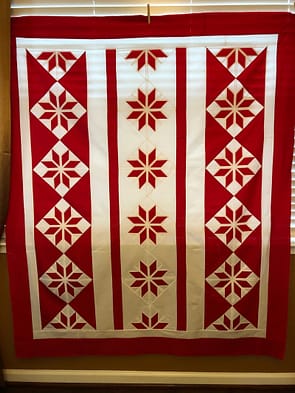 The pattern is for sale in my Etsy shop. It is not limited to red and white. It may look good in blue, black or whatever color suits your fancy. You could use a patterned fabric that looks solid from a distance. If you do make the quilt, please share pictures!
Happy Quilting!
Laureen