Why Bother to Compile This List?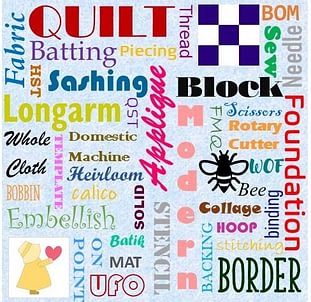 Just like any other craft or profession, quilters have their own language, which you should learn to succeed. I have trolled the internet and books to figure out what some of these quilting terms and bizarre acronyms are and decided to share them with you as I find them. This list will grow as I find new ones or get input on better ways to define them. I will also endeavor to assist in how to apply these terms! I guess years of spelling in elementary and high school may have taught me something after all!
Terms will be listed alphabetically and defined. Acronyms will be listed after the terms and separately. Hopefully, this will be searchable. My amazing webmistress will hopefully help with that. If you see terms you would like to add, please comment!
Terms:
4P = Four Patch
9P = Nine Patch
All Over Design, also known as edge to edge quilting, is a quilted design the covers the entire quilt. The design starts at one edge of the quilt and extends to the opposite edge of the quilt, regardless of the blocks. This is generally accomplished with a pantograph or programmable quilt machine. However, it can also be accomplished on a domestic machine or by hand with stencils or a consistent meandering design.
Applique is the process of sewing one fabric layer on top of another to create a design. There are three primary applique techniques: needle turn, machine, and fusible.
Basting is a method of holding all three layers of the quilt (top, batting and backing) together until it is quilted. It can be accomplished with pins, glue, fusible batting or interfacing, spray adhesive or long stitches.
Batting is the material in between the quilt top and the quilt backing. Generally, batting are bonded fibers specifically designed for quilting and are composed of polyester, cotton, wool, bamboo, silk, or a combination of these fibers. Other materials can also be used for batting such as wool blankets, flannel and fleece.
Bearding is when the batting is pulled through the quilt top or backing during quilting. This is generally undesirable. To minimize this, look for quality products and match the batting tone (light or dark) to the quilt top.
Bias is when fabric is cut at a 45-degree angle from the warp and weft. Bias cut fabric has the most flexibility or the least stability from stretching. This cut is preferred when making binding for curved edges or tape for curved applique. Another example is when quilters make triangles, the longest edge is a bias cut. That is why many quilters prefer to make half square triangles two at a time, which minimizes the stretch on the bias.
Binding is the material sewn around the edge of the quilt to cover the raw edges. This may be plain or decorative. Binding may also be accomplished by folding the backing material to the top of the quilt and securing it with stitching.
Block is a group of fabrics sewn together in a specific design. Blocks are generally square or rectangular, but they can be any shape. Blocks are sewn together to make the quilt top.
Block of the Month (BOM) is a program where quilters subscribe to purchase the pattern and materials to complete one block of a specific quilt per month. Programs generally last from 5 – 12 months.
BOM = Block of the month
Border is the fabric sewn to the edges of a quilt center. Borders may be plain, pieced, and/or appliqued. Usually, they have straight edges, but they can all have decorative shapes, such as scallops.
Border to Border design is a consistent stitching pattern extends across the the quilt center, but changes at the border.
BSS = Basic Sewing Supplies
Chain Piecing is sewing pieces together one after the other without stopping or cutting the thread between pieces.
Charm Packs are bundles of 5-inch squares from a fabric collection or color palette.
Cornerstone is the square between sashing pieces.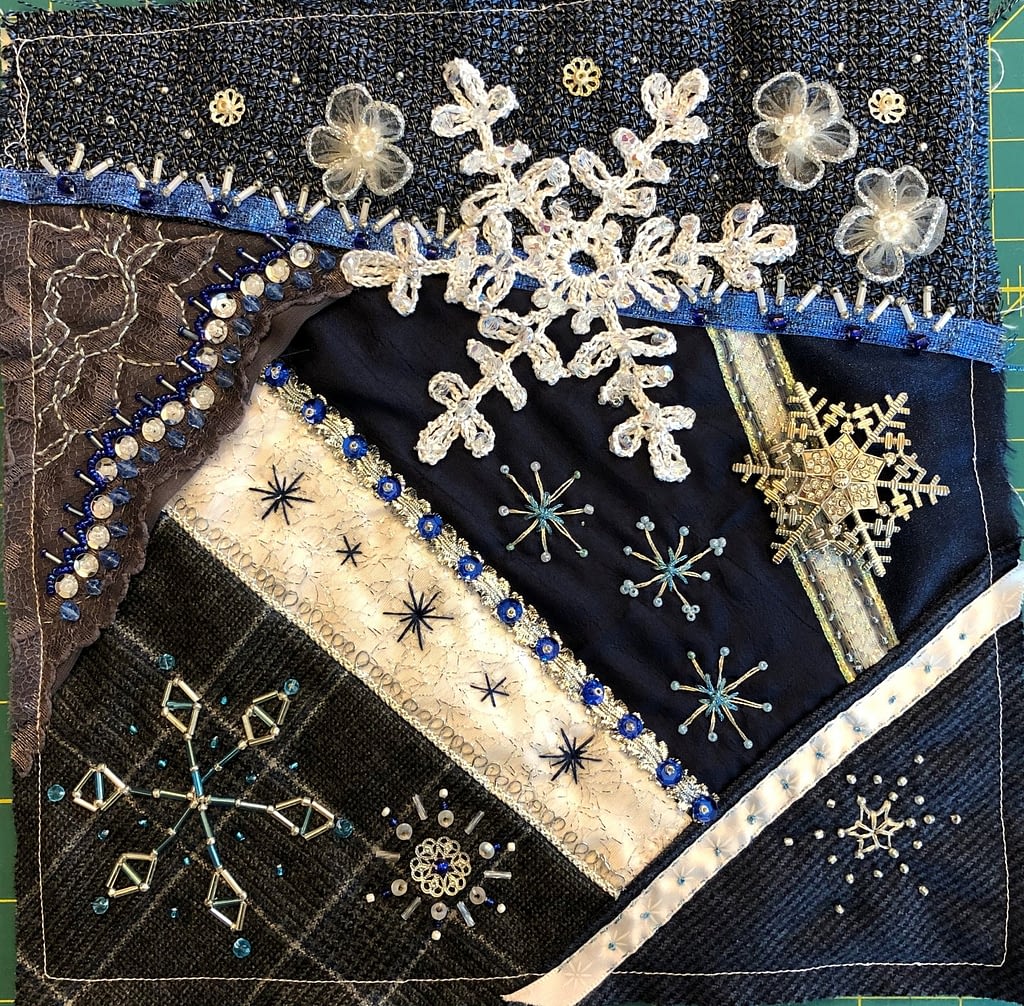 Crazy Quilts were popular during the Victorian Era and have regained popularity. The quilts are made from scraps of fabric sewn to a pieces of muslin and heavily embellished with embroidery, beads, buttons, lace, and other items. The muslin acts as the batting. When the top is complete, a backing is is added and then the quilt is bound.
DSM – Domestic Sewing Machine
Edge to Edge Quilting – see All Over Quilting.
English Paper Piecing (EPP) is a method of piecing. Pieces of paper or card stock are cut to the size of the finished piece. Fabric is cut around the piece leaving a 1/4″ seam allowance around each side. Then, the seam allowance is pressed tightly to the back side of the paper and fixed with a running stitch through the seam allowance or glued. Pressed pieces are hand sewn together at the edges using a ladder or whip stitch. Once a section of the quilt top is sewn together, the paper is removed.
Fat Eighth is a piece of fabric cut to 9-inch x 21-inch.
Fat Quarter is a piece of fabric cut to 18-inch x 21-inch.
Finished Size is the size of the block after the adjacent pieces are sewn to it. The finished size is generally 1/2-inch smaller than the unfinished block, which allows for 1/4-inch on each side for the seam allowance.
Foundation Piecing (FP) is a method of piecing. The design is printed onto a piece of paper (foundation) and pieces of fabric are sewn to the foundation in a specific order. The lines on the foundation are used as sewing lines for the each piece of fabric to be added. Foundation piecing enables quilters to make very precise blocks without worrying as much about the size of fabric pieces or the bias. It is often used when blocks have irregularly shaped pieces or require sharp points. It is also called paper piecing, not to be confused with English Paper Piecing.
Four Patch (4P) is a square block generally consisting of four squares sewn together.
Half Square Triangle (HST) is a square block consisting of two triangles. HST may also be called triangle squares. These can be made in multiple ways. There three typical methods. 1) Sew two triangles together, which can be difficult as the long side of the triangle (hypotenuse) is a bias edge. 2) Two or more HST at a time, in which a diagonal line is drawn from corner to corner of a square. Two squares are sewn together on both sides of the drawn line. Then, the HST are cut apart on the drawn line. 3) Similar to the last method, a diagonal line is drawn on one square. Two squares are sewn together on the drawn line. Excess fabric is trimmed 1/4-inch from the seam.
Hourglass is a Quarter Square Triangle consisting of two fabrics.
HST = Half Square Triangle
LAQ = Long Arm Quilting
LQS = Local Quilt Shop
Mystery Quilt is a form of quilt along, where the designer gives you clues during each step of the quilt along in order to solve a riddle or mystery. The riddle or mystery may be the name of the quilt, name of block, or other question the designer is asking.
Nine Patch (9P) is a square block generally consisting of four squares sewn together.
Piecing is the process of sewing pieces of fabric together to make a quilt top. There are a variety of techniques within piecing: foundation piecing, English paper piecing, Strip piecing, chain piecing, curved piecing, etc.
Precuts are bundles of assorted fabric from a specific fabric collection or color palette, which are cut to the same size. Precuts come in a variety of sizes fat quarters (FQ), fat eighths (FE), strips or jelly rolls (2 1/2-inch x WOF), charms (5-inch squares), layer cakes (10-inch squares), etc.
QST = Quarter Square Triangle
Quarter Square Triangle (QST) is a relative of the half square triangle (HST) and has three variations: hourglass, quarter square triangle and split quarter square triangle (SQST). QST are made in a manner similar to the HST and usually consists of four small triangles sewn together to make a square. The hourglass has four pieces in two fabrics. The QST has four pieces in three or four fabrics. The split QST is a hybrid between HST and QST, where the square consists of two small triangles (QST) and one large triangle (HST).
Quilt is a sandwich of fabric, which typically consists of top, batting or filling, and backing that are stitched or tied together. Generally, a quilt has a binding around the edges to enclose the edges of the fabric sandwich. However, some quilts are made as an "envelope" so a binding is not needed.
Quilt Along is when a designer provides steps to make the quilt at certain intervals (weekly, every other week, monthly, etc.) This may be used to introduce or test a new pattern or just increase interest in the designer. These may offered free or for a fee. If it is offered for free, the pattern will often disappear when the quilt along is complete and be packaged for sale.
Quilting is the process of stitching the layers of a quilt sandwich together. There are three primary quilting methods: hand quilting, machine quilting and longarm quilting.
Registration Marks are the printed characters in the selvedge of the fabric. Typically, registration marks include the fabric manufacturer, fabric collection, or fabric identification code. It also has a series of dots that represent each of the dyes used in the fabric. When looking for coordinating fabrics for a quilt, the registration marks are very useful.
Right Side of the fabric is the printed side of the fabric. For solids and batiks, this may be difficult to determine.
RST = Right Sides Together
Sashing are the fabric strips sewn between blocks. Like borders, sashing may be plain, pieced or appliqued.
Seam is where to fabrics are sewn together during piecing.
Seam Allowance is the distance from the stitching to the raw edge of the fabric. For quilting, this is generally 1/4-inch.
Selvedge or selvage is the tightly woven edges of the fabric, which keeps the fabric from unraveling. It is created by the weft looping around to create the next row of threads in the fabric. With the exception of batiks, this is where registration marks are printed.
Setting Triangles are half square triangles sewn to each side of a block in order to set it on point.
SID = Stitch in the ditch
Sizing is a protective coating usually added during the fabric weaving process. It can also be added by quilters while piecing to minimize warping during sewing. It should be washed out before using fusible adhesive as it reduces the sticking capability of the adhesive.
Split Quarter Square Triangle (SQST) is a hybrid square block of a Quarter Square Triangle (QST) and a Half Square Triangle (HST), consisting of one large triangle and two smaller triangles.
SQST = Split Quarter Square Triangle
Stitch in the Ditch is when you stitch along the seam line. Since most quilters press seams to one side, the stitching is generally on the low side or ditch (side without the seam allowance). It isn't always possible to stay on the low side, but the term still applies.
Strip piecing is when the long sides of strips are sewn together into strip set. The strip set is then cut into smaller pieces, typically perpendicular to the seams. This technique is frequently used to create nine patches, where three strip sets of three fabrics each are made, cut into smaller pieces, and sewn together into a square block with nine pieces.
Subcut, sub-cut or sub cut is a term frequently used in cutting instruction. It means to take the pieces cut in the previous step/sentence/phrase and cut them into smaller pieces. Example, cut one 2 1/2″ square. Subcut once on the diagonal to form two triangles.
TBQ = To be Quilted = Quilt Top
Tying is a method used to secure three layers of a quilt together in lieu of stitching or quilting. Heavy thread, cord or yarn is looped through the layers and tied at the top or back. This method is generally not accepted for competition quilts.
Traditional Piecing is cutting pieces and sewing them together without the aid of foundations or papers.
Triangle Squares – see Half Square Triangles.
UFO= Unfinished Object. Any project started but not completed yet.
Unfinished Size is the size of a block before adjacent pieces have been sewn to it. Generally, the unfinished size is 1/2-inch larger than the finished size, which allows for 1/4-inch seam allowance on all sides.
Warp are the threads that run the length of the fabric and are strung onto the loom. The weft is woven through the warp to create the fabric. When cutting fabric for quilting, the fabric stretches or distorts the least when cut along the warp and weft.
Weft are the treads that run the width of the fabric and created the selvedge at the edges when they turn for the next row. When cutting fabric for quilting, the fabric stretches or distorts the least when cut along the warp and weft.
Whole Cloth Quilt is a quilt made from one piece of fabric or lengths of the same fabric sewn together to appear as one piece of fabric. Whole cloth quilts typically have intricate designs stitched onto it.
Width of Fabric (WOF) is the width of the fabric measured from selvedge edge to selvedge edge. Quilting fabric typically measures between 42-inches and 45-inches depending upon the manufacturer. Selvedge edges are generally removed before use. Therefore, the usable width is generally 40-inches. Backing fabric is generally 108-inches wide. Some other fabric types, fusible and interfacing have a variety of fabric widths, so check carefully when purchasing.
WOF = Width of Fabric
Wrong Side of the fabric or back of the fabric is the non-printed side. For solids and batiks, this may be difficult to determine.
WST = Wrong Sides Together
Contributors
If you have a term you would like to have defined, or would like to add to this list, please leave a comment and we will work with you to fulfill that request.