Description
Go down the rabbit hole with other adventurous quilters. Whimsical Stitches is a fun membership designed to add techniques to your toolbox while exploring embellishments to take your quilts over the top!
Do you want to break out of traditional quilting and have a lot of fun experimenting with different techniques to put your quilts over the top? If so, Whimsical Stitches may be just the thing for you.
Whimsical Stitches is a membership program that demonstrates different techniques, incorporates them into small projects for practice, and expands them into a larger project from the Whimsy Collection. New content is added routinely so you can continue the fun in quilting adventure while gaining confidence in your skills.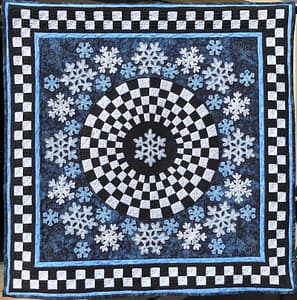 What is the Whimsy Quilt Collection?
The basic premise of the design is a central wheel surrounded by applique, framed by a checkerboard, and then embellished. Think "Alice in Wonderland-ish" medallion quilt. The quilt sizes are generally 48" square, but some are a little larger. Do you want it smaller or larger? We will be sharing ways to add or subtract elements to get the size and look you imagine.
Are you afraid of what you might find around the bend? In other words, are you scared of curves? Not to worry! The Whimsy Wheel is created without any curved piecing. Like Wonderland, there are plenty of illusions in Whimsy. So, we try to make things easier than the look. That will be our secret when people rave about the quilts you make in Whimsical Stitches. Instructional videos will show you how to make the basic Whimsy design.
Whimsy is more than just the quilt structure. Whimsy quilts and to sample new techniques, create unique quilts, and share your quilting experience with other adventurers.  So how will Whimsical Stitches accomplish this? Whimsy offers tons of bonus content to help you do everything from picking fabrics to putting on the finishing touches.
Whimsy Pattern Library
Whimsical Stitches gives you access to all the patterns in our Whimsy Collection over the course of time.  There are eight patterns currently loaded into the system. Three more will be added shortly.  When these are added, current ones will be pulled out of the line-up. In addition, there are at least five more Whimsy quilts on my design board. Yes – I am addicted to Whimsy. Inspirations for this design abound – seasonal themes, locations, hobbies, etc. The ideas keep flowing. As those ideas make it from my head through the design and instruction process, you will be the beneficiary. Those new patterns will be added to Whimsy. This keeps our content evergreen. Keep in mind that each of our patterns retails for at least $13. This membership provides over $175 value in patterns alone.
Not only will the patterns be available, but we will be uploading SVG (image files) for the appliques. This will allow you to send the files to your electronic cutter, if you have one.
Do you want to build on your skills with mini projects that give you quick completion. Quick projects allow you to sample new techniques, maintain interest, and build confidence. If you are interested, confident, and feel like you are making progress, you are more likely to complete projects.  These techniques can then be used to make and embellish your own Whimsical Quilt.
Each month, we will share a new mini project. The projects will not be available on our website. These exclusive offers are only available to members. Some of the projects will be additive and addictive. This means they can stand alone or be added to other projects to create an even more amazing design.
We believe in dripping information so you don't feel like you are drinking from a fire hose! Too much information at once can be overwhelming, leaving you feeling lost. We hope to drip the information to you as you need it. Then, bonus content will be provided so you can expand your skills as you see fit.
We hope that once you make your first project, you will be so excited to dive in and do it all over again.
These mini patterns are valued at $10 each month!
Multimedia Immersion
Part of the adventure is learning how to embellish a quilt to go beyond ordinary and make it outstanding. This doesn't mean you will become an award-winning quilt diva. But you will gain the confidence to try new methods of quilting, piecing, applique, embroidery, beading, and other techniques to make your quilts stand out from a crowd.
Some instructors show you one way, their specialty, to create a block or design. We believe that there is no "right" way, only the way that works best for you. So, we will give you options for creating some of the basic elements of Whimsy designs. For example, there are at least four ways to make the center circle…. This will appeal to those quilters who like to "color outside the lines" so to speak.
You could sign up for a dozen different classes to learn some of these gems. But we are sharing our years of classes and experimentation with you as part of the membership. You get the benefit of our trial and error. Some of those gave surprisingly pleasant results. I love it when an experiment goes incredibly right! This is the equivalent of taking a quilt class once a month, for which you would pay $25 or more.
The best part is that you get the benefit of this for one membership price.
So far you are getting $40 worth of products every month for $15!
Chasing Rabbits?
No need to go chasing rabbits to find help. There will be several ways to get the help you need.
Routine question and answer (Q&A) sessions will be scheduled each month to focus on the mini projects. Each of those mini projects will relate to techniques used in the Whimsy Quilts. Those sessions will be taped so that you can use them as references for future projects. For as long as, you maintain your membership, you will have access to those sessions.
Frequently Asked Questions (FAQ) will be provided. If you send a request for clarification on a topic, we may include our answer in an FAQ section. If you have a question, chances are others also have that question. This section will hopefully be your go-to for clarifications. If you don't see an answer there, send us an email and we will get you an answer!
Video tutorials and tip sheets will be provided to cover major topics and special techniques. This content will be added periodically to ensure there is new information for you as you need it.
A Private Facebook forum strictly for Whimsy members will be available. This forum will enable you to share you progress with other adventurers. As part of that community, you will be able to ask questions of the group. You will be able to share your unique perspective to help others. Your creativity may spark others. That feeling of community and sharing as pretty powerful, which is why so many of us belong to quilt guilds. Maybe Whimsy will become your guild for fun and exploration.
Order Up – Kits and Supplies (Member Shop)
We are creating a special category in our Shop to make shopping for Whimsy supplies easier to do. Of course, you can always purchase them elsewhere or use what you have on hand. Our shop will just simplify the process for you. Plus, our ability to purchase items in bulk may help reduce your purchasing costs.
Rulers, template materials and other notions mentioned in the patterns will be stocked as appropriate.
We may create basic kits for Whimsy Quilts so that you don't have to hunt down fabrics. Of course, you can always use these as stash busting quilts!
Upon demand, we will create fusible appliques for you.
For mini projects, we can develop embellishment and/or supply kits to get your creative juices flowing.
Even if we don't carry the items in our shop, we will try to help you find supplies with appropriate links to other potential suppliers. If that shop has an affiliate agreement, we will be sure to let you know. This lets you spend your creative time making instead of shopping.
Join Us
Memberhip begins September 18, 2023!  Those starting on day one, will see the classes live!
These classes will be taped to ensure you can join at anytime.