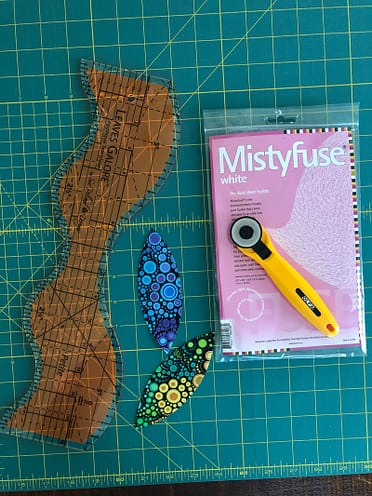 I had never fused my own material before, because it was a bit intimidating. Today, I got over that. Non-stick Goddess Sheets, Mistyfuse, my iron and Sue Pelland's instructions made it simple! The trick is sandwiching the fabric and Mistyfuse between the Goddess Sheets and gliding your iron over the sheets long enough for the fusible to melt. Thankfully, it didn't take long and the fusible doesn't scorch. I did learn that a dry iron works a little better for me – no hot water rolling off the sheet. The Goddess Sheets clean up quickly with a nylon scrubbie. And the best part – no waste paper after you are done!
Once I fused the fabric needed for today's work, I learned how to cut melons – not the kind you eat, but the kind you sew. Sue's curved ruler and a rotary cutter made quick and easy work of the assignment. By the end of the afternoon, I had 72 melons in a rainbow of colors. This was much more efficient than templates.
I think I may use this technique in one of my next designs!
Happy Quilting
Laureen