I challenged myself to learn more about fusible applique this year, so I enrolled in Sue Pelland's Gradations Course. It is a six week course providing the basics on curved rotary cutting and fusible appliques. As usual, I am running behind in the class due to other commitments for my own quilts. Thankfully, it was an online course, so I can catch up as needed! There is something about spending money on a class the provides a bit of motivation to finish it. I don't know about you, but purchasing the fabric isn't always enough of a commitment!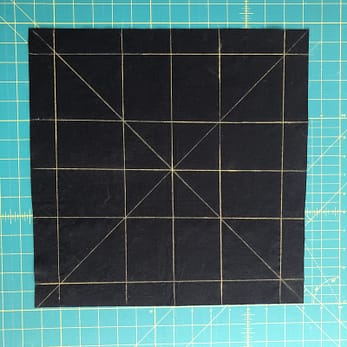 Our preparation for the class was to wash and press the fabrics for the class. Sue believes that the fusible sticks better to clean fabric that it does to fabric with sizing. She gave a great tip for fabric washing – make 1/4-inch snips in the cut edge (raw edge) of the fabric a few inches apart to minimize fraying.
Week 1 – We cut the background fabric and marked it for the applique placement. She gives great tips and tricks for marking both dark and light fabric. I got our of my comfort zone and used a dark background fabric.
Tomorrow I will share what we accomplished for week 2!
Happy Quilting
Laureen