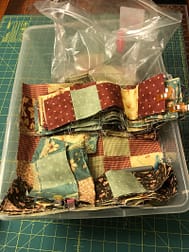 Do you remember this box of pieces I found last week? Well, I have made quite a bit of progress on it!
I put the pieces together in less than a day and then was ready to assemble it. Unfortunately, I made a minor error when laying the pieces out for assembly. I used a slightly cramped space, so only laid out the 25-patch blocks, skipping the four-patches which were all the same. I figured that the position of the 25-patch blocks was more critical. I wanted to make sure that similar colors (brown, brick, and teal) were not next to each other. This is where my shortcut fell flat. Because the quilt was assembled on point and the 25-patch block were separated by the four patch, ensuring the color blocks were not next to each other in a row, didn't necessary prevent them from being close together in the final assembly. If you look closely at the diagonals, how it was assembled, no two block colors are next to each other. However, when you look at the horizontal or vertical, the brick or teal blocks end up adjacent to each other….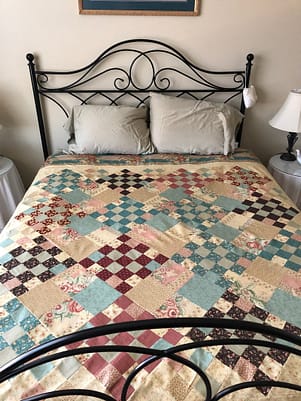 I should have taken this upstairs to a bed and laid all of the blocks out so I could see how they would align with each other. It is still pretty even if a bit blotchy in color. Hopefully, some snazzy quilting will tone down the color issue 🙂 Maybe some orange peels in the 25-patch with crosses through the accent colors. Then, roses quilted in each of the four-patch blocks to make a bouquet? A little feathering in the border? We will see what works under my needle. Any ideas?
I will keep you posted on this one.
Happy Quilting
Laureen