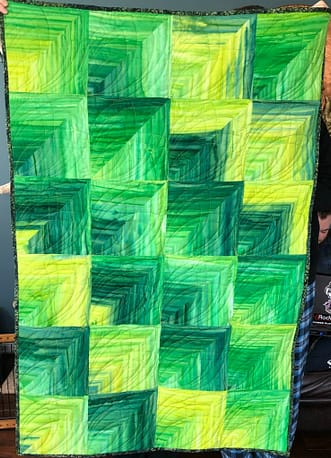 The last of my Christmas present projects was Cutting Corners by Jordan Fabrics. My youngest sons girlfriend Elyssa loves the color green. What better than a quilt with a range of greens? This simple pattern from Jordan Fabrics was just the thing. The kit contained precut squares that only required one cut. The pieces were sewn back together and assembled in rows, which were quickly made into the quilt top.
Quilting was fun and quick. I used HandiQuilter rulers Arc A and Arc B to create a leaf motif to it.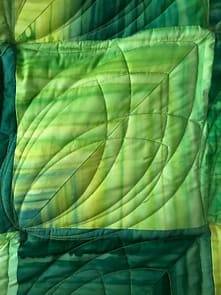 Elyssa loved the quilt – another happy recipient!
Now, as part of my New Years resolution, I am back to completing my unfinish objects – UFOs. I have quite a few!
Happy Quilting!
Laureen