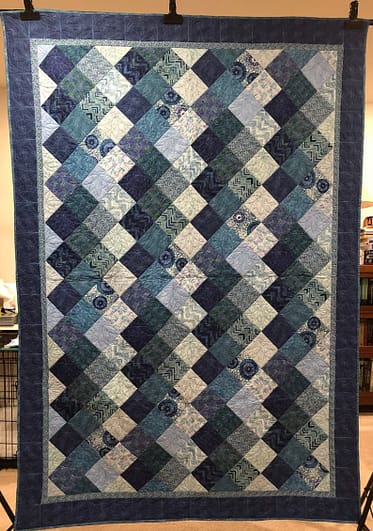 Continuing on the trend of gift quilts, Sydney (Jae's twin sister) was my next adventure. Although they are identical twins and are both very talented divers, they are very unique. So I needed to create something just as unique for my lovely Sydney.
It started with a gorgeous fabric that I couldn't resist. Tessellations by Amiee Sue Malott for Blank Quilting were perfect for Sydney. Five charm packs were divided into four color families – purple, blue, teal and light blue. The charms were laid on point in columns of each color – 12 charms per column – 17 columns. The charms were then sewn together in diagonal rows starting in the upper left corner working down to the lower right corner. Once the charms were assembled, all 196 of them, I trimmed off the points and added a 1-inch inner border and a 4 inch outer border.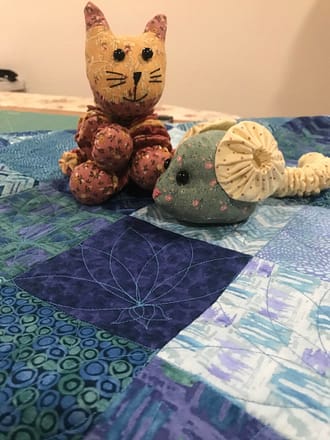 The fabrics were gorgeous and need the perfect quilting to reflect Sydney. Since Sydney studies yoga and has her own following for her daily poses, I felt that stitching in the ditch around each block and quilting lotus leaves into the center of each block – yes each block – would be perfect. Talk about a zen decision – I soon became one with the lotus leaves.
I have to say the repetitive pattern was an excellent salve over the summer, while I dealt with one dog successfully battling lymphoma and another dog losing her battle to cancer. Quilting was an excellent balm and I knew Sydney would appreciate the love stitched into her quilt. The hardest part for me was to wait three months to give it to her! I am happy to say she loves it, which made it worth the wait.
A simple charm pack can become a stunning piece without intricate piecing. The color placement and quilting truly make this quilt unique. I hope you have take on a charm pack challenge like this.
Happy Quilting
Laureen