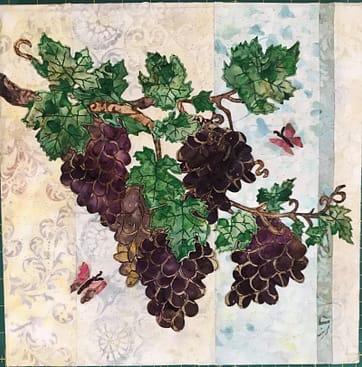 I have been quilting for over 30 years and applique quilting made me nervous. I took several classes and actually did pretty well with needle turn applique, but it took so long to do. That certainly raised my level of respect for people who do Baltimore quilts or other heavily appliqued quilts.
People shared that the freezer paper method made applique so much easier. I still don't understand that one.
Then, I found my preferred applique method thanks to a beautiful batik kit by McKenna Ryan. The method is fusible applique. Her kit came with the applique pieces already laser cut with fusible material attached. I pieced the backing – all four pieces. Ironed the applique pieces on according to her diagram. Then, I had fun embellishing the piece. I used different colored threads to "paint" the applique – brown for the stems, green for the leaves and purple for the grapes. The best part was that I didn't need to bind the piece. You buy a canvas stretcher and staple the quilted piece to it for a lovely wall hanging. This project was completed in a day.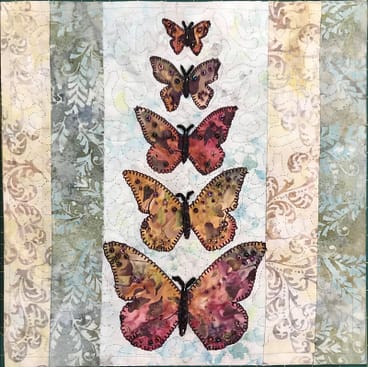 I like the piece so much, that I bought a second kit by the same designer. These five batik butterflies are bedazzled with seed beads. In the right lighting the "spots" shimmer.
Some quilters feel that kits like these remove their ability to create. I confess that I view them as a perfect starting point for embellishment, which is my favorite part of quilting.
Whether you are a seasoned quilter or new to applique, fusible applique quilt kits are a fun and fuss-free way to begin exploring the world of quilting applique.
Happy Quilting!
Laureen